CHARLOTTE – The Panthers came into Sunday's division matchup with justifiably high hopes that their offense could get things going against a struggling Saints defense.
A load of efficient plays between the 20-yard lines over the first two drives buoyed those hopes, but a couple of inefficient ones sank those hopes and sent the Panthers toward a deflating defeat.
"Football comes down to five or six plays you do or don't make," head coach Ron Rivera said Monday, the day after a 34-13 loss to New Orleans. "We've just got to punch the ball into the end zone."
Outside of Bank of America Stadium, concerns about the offense through three games extend well beyond the red zone, but for Rivera, that's the starting point. For "the most part" he remained pleased with quarterback Cam Newton's decision making even in a three-interception game, and Rivera is fine with the idea of defenses daring Newton to beat them with his surgically repaired shoulder because the chances to do just that have been ample.
But there's been a disconcerting shortage of turning those chances into seven points rather than three. The Panthers have scored touchdowns on just one-fourth of their red zone drives, tied for the worst conversion rate in the NFL.
"It has happened in all three games: We've missed opportunities to complete big plays - big passes for big plays," Rivera said. "Back to San Francisco, there were two, there were two last week and two this week."
Rivera expanded on the psychological impact as he sees it on a start like Sunday's. The Panthers made the Saints look like the last-place defense that they were – until Carolina got close to the end zone. After 13 productive plays that covered 68 yards and got the Panthers down to the 7-yard line, Newton was sacked courtesy of a communication error involving left tackle Matt Kalil.
The Panthers settled for a field goal. The Saints marched right back down the field and settled for nothing less than a touchdown. Then the Panthers responded with another impressive drive that - slowed by a questionable flag for delay of game -  again netted just three points.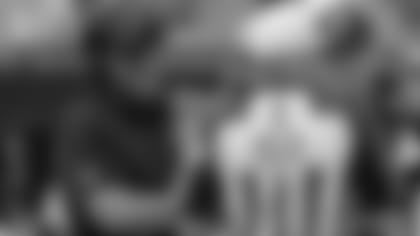 "I think a lot of our situation stemmed from that. Those first drives, we had opportunities to do some things, and we didn't do it," Rivera said before looking at the exchange from the Saints' perspective. "You're a defense that comes out and the opponent drives the length of the field, gets it down to the seven-yard line with a chance to punch it in and you keep them from doing that – that's huge. It's a moral victory. I know some people say there are no moral victories, but that is one there.
"Anytime you do that, it can really change things."
Now the Panthers are the ones tasked with figuring out how to change things on offense. The red zone inefficiency is problematic, but so is the offense reaching the red zone just eight times. Only three teams who have played three games have reached the red zone fewer times.
Graham Gano is 8-for-8 on field goals, including a pair when the Panthers didn't even reach the red zone, and Carolina's record is 2-1. But after getting away with settling for field goals the first two weeks, the Saints showed that's a dangerous game to play – as it could again be this Sunday against an explosive Patriots team that has replaced New Orleans as statistically the worst defense in the NFL.
"You can't settle for field goals against explosive teams," Rivera said. "If you do that, you're not going to win."
View the top photos from Panthers vs. Saints by team photographer Melissa Melvin-Rodriguez.