CHARLOTTE – Head coach Ron Rivera was prepared for the questions on Wednesday – from both his players and the media – a day after the Panthers traded wide receiver Kelvin Benjamin to the Buffalo Bills.
"I think the way the veterans look at things – is what you're doing helping the football team?" Rivera said. "And that's what we believe we are doing."
Both the passing game and the running game need improvement, and Rivera believes putting faster receivers on the field can help both areas.
First, in regards to the passing game, Rivera said the Panthers are facing a lot of press coverage on the outside. When that happens, receivers need to be able to win off the line and get vertical quickly.
"We didn't have that skill set out there," Rivera said. "We had two guys with similar skill sets with (Kelvin) and Funch (Devin Funchess). We have a group of young guys that we need to get on to the field to create some speed."
The group includes Curtis Samuel, Kaelin Clay and perhaps Damiere Byrd once he's eligible to come off injured reserve and play in Week 13 after breaking his arm earlier in the year. Veteran Russell Shepard may not have the same top-end speed of those other three, but he has quickness to create separation, and he's also in line for more snaps.
But all eyes are on Samuel, a second-round rookie with blazing speed.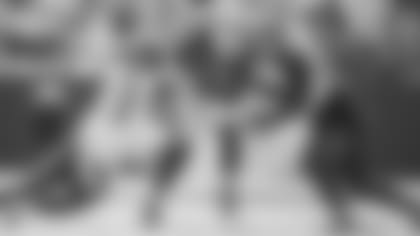 The injury issues that hamstrung Samuel's development are well-documented. When he got healthy, the Panthers had a tough time carving out a role that wasn't too easy for defenses to diagnose. And the Panthers experimented with using him in so many different spots from week to week, perhaps to a fault, as Rivera mentioned after Samuel's botched pitch against Chicago.
Ideally, Benjamin's departure creates an opportunity for Samuel to finally settle in.
"It defines what he's going to do," Rivera said. "Now we are not trying to find a way to get him on the field. Now he has a specific role."
It's a more clearly defined role, but one that will involve a larger route tree, which should make Samuel more difficult to defend. Ideally.
"One minute he's running a shallow cross, the next minute he's running a dig, the next minute he's running a 7 and then all the sudden he pops and runs a 9 for you – not every time he comes on the field you run a reverse or a 9 route with him," Rivera said. "Now they (defenses) have to pay attention."
As to the impact on the run game?
It became clear to Rivera and interim general manager Marty Hurney that opposing defenses didn't fear getting beaten deep with passes over the top. As a result, they moved a safety into the box regularly, which made things tough on the ground.
"We haven't stretched the field this year, and I think there are some things that compound what we want to do as far as running the football," Rivera explained. "Not being able to stretch the field has been part of the reason why we've seen so many eight- and nine-man boxes.
"(Speed) gets people to back off a little bit. We have to do something to help alleviate the pressure that's being put on the offense to run the ball."
View photos from the week of practice leading up to the Panthers' game against the Falcons.