CHARLOTTE - By the time the Panthers kick off Sunday's regular season finale in Atlanta, Carolina could already know that the long shot of earning a first-round playoff bye is dead.
By the time the Panthers-Falcons game reaches the latter stages, Carolina could know that its hopes of winning the NFC South and hosting a wild card game are dead.
You can safely assume that Ron Rivera will know how those things are playing out, but he says that won't change the one thing he does know entering the finale.
"We're going to out and play with the intent of wining the football game," Rivera said. "Somebody else paying attention to it? Absolutely. But me paying attention or any of our players or coaches makes no sense.
"I want to win the football game. I want to keep as much momentum going forward as possible."
The first piece of the puzzle that will determine where the Panthers will be seeded – they'll be anywhere from No. 2 to No. 5 – could come into focus in the 1 p.m. window when the Vikings host the Bears. Minnesota, nearly a two-touchdown favorite, would end Carolina's chance at being the No. 2 seed with a win or tie.
Regardless of the Vikings result, the 4:25 p.m. window will provide the final verdict, with the Panthers needing to beat the Falcons and have the favored Saints lose at Tampa Bay for Carolina to win the NFC South and earn a home playoff game. Otherwise, the Panthers are the No. 5 seed and will be on the road for a wild card game.
"I don't know what all the scenarios are, but the most important thing is that we focus in on Atlanta," Rivera said. "We can't get caught up in what the scenarios could be; we're not going to worry about those."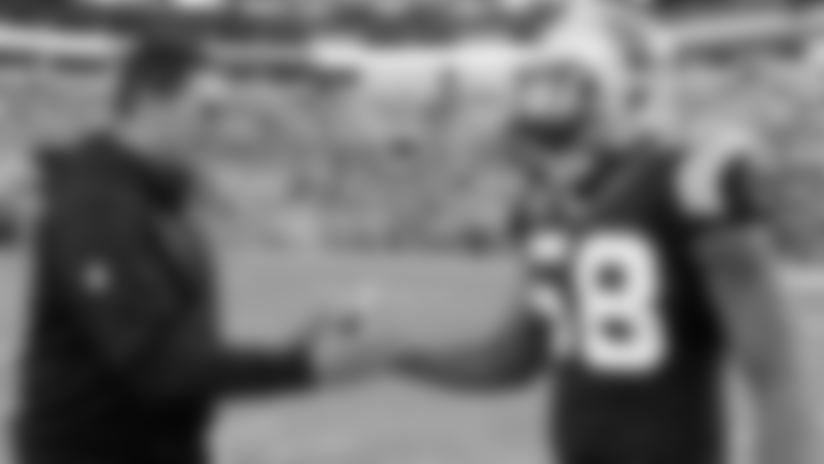 One game-day scenario that Rivera is excited about involves a pair of Georgia natives returning to the defensive lineup for Sunday's game in Atlanta. Rivera said that linebacker Thomas Davis and defensive end Charles Johnson should be back in action for the Falcons.
The University of Georgia products rank among the Panthers that get the most fired up for the Falcons game, matched perhaps only by fellow Georgia native Cam Newton.
"We look forward to seeing them both," Rivera said. "That's exciting."
Davis was suspended for last week's playoff-clinching victory over the Bucs for a helmet-to-helmet hit the previous week on Packers wide receiver Davante Adams. Johnson was suspended four games for violating the NFL policy on performance-enhancing substances.
Rivera also sounded very upbeat about the possibility of getting right guard Trai Turner back following two weeks in the concussion protocol.
"Trai is moving along in the protocol," Rivera said, "so I think we should see him on the practice field tomorrow."