CHARLOTTE – A steady rain fell Thursday as the Panthers executed a series of end-of-game situations to conclude their 10th and final organized team activity. The rain fell harder still when head coach Ron Rivera addressed the media.
No amount of precipitation, however, could dampen his spirits.
"I'm seeing some things that give me reason to be happy and excited about what we can be as a football team," Rivera said. "We got through all the installations that we planned, and we went through some situational football. We seemed to pick things up well."
Rivera and his staff will get one more chance prior to training camp to gauge their players' progress when the team holds its mandatory veteran minicamp beginning Tuesday.
Thursday, Rivera reviewed what he observed over three weeks of OTAs.
HAPPY CAM-PER: Upon declaring that the Panthers were ahead of schedule, Rivera singled out one player.
"The nice thing that you see is the progression of our quarterback," Rivera said. "I think Cam has done a really nice job. His rapport with the rest of the team has been really good."
Cam Newton obviously was the point man in the installation-heavy OTAs, and he was taking cues from first-year offensive coordinator Mike Shula. Not that Shula is a stranger to Newton and Co., having served as quarterbacks coach each of the last two seasons.
"Coach Shula is stressing getting to the ball faster and keeping the defense on their heels," right tackle Byron Bell said. "We're doing a good job with that, and Coach Shula is bringing us along quick. There are really no changes in philosophy – maybe some little things here and there – but the offense is looking good. We're clicking on all cylinders."
Newton, of course, has something to do with that.
HAPPY RETURNS: Linebacker Jon Beason exceeded expectations with his level of involvement in OTAs from the opening whistle, and offensive linemen Ryan Kalil and Jordan Gross provided a similar boost to the offense over the last week.
Beason is coming back from knee and shoulder surgery, while Kalil is returning from foot surgery and Gross from ankle surgery.
"It's huge," Rivera said. "Any time you get your veteran leaders out there on the football field, that's a real big thing for the team."
All three participated in proceedings throughout OTAs. Beason was quite active from the beginning, while Kalil and Gross amped things up Monday.
"They came back Monday and kind of worked their way into it," Rivera said. "They did some stuff on the side, pushing and pulling each other, just to kind of see how it was. Once they felt comfortable, they started actually going through the drills and doing some of the teamwork.
"It's good to see that because it brings a little bit more cohesiveness to the offensive line."
NOT ALL SUNSHINE: While Beason, Kalil and Gross made their way back, a different trio was limited.
Cornerback Captain Munnerlyn (strained abdominal), running back Jonathan Stewart (ankle) and wide receiver Lamont Bryant (hamstring) were present throughout voluntary OTAs but were limited to working out on the side.
"You wish everybody would be healthy and could all take all the reps, but you can't always do that," Rivera said. "You also have to be careful to make sure we get through and get everybody healthy for training camp."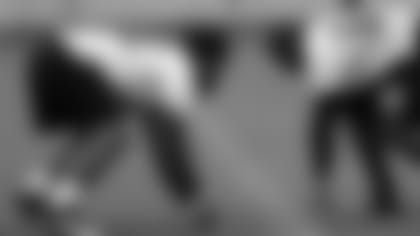 NEW AND IMPROVED: Rivera liked what he saw from his rookies during their minicamp nearly a month ago, and it was more of the same during OTAs.
"A big part of it is because of who they're working with now," Rivera said. "We had a bunch of rookies working together, and now we have a bunch of rookies mixed in with the vets. That's been really good."
While top choices Star Lotulelei and Kawann Short spent rookie minicamp learning the most basic fundamentals of playing defensive tackle in the NFL, they had to take it to a new level during OTAs. They did just that, taking advantage of the opportunity to shine with everyone at their position on the field.
"We did the things we really wanted to do as far as installation, and we were able to incorporate the young guys into it," Rivera said.
FLASHERS: The strides made by young players weren't limited to the top draft picks.
Late in practices when time allowed, the Panthers added an "opportunity period" to allow youngsters to shine. The extra plays often featured quarterback Colby Cameron, an undrafted rookie getting his first real experience under center after working out of the shotgun at Louisiana Tech.
"He flashed," Rivera said. "(Running back) Kenjon Barner, he's somebody that's really been sticking out very well. We're pretty excited about what he can possibly do.
"Melvin White, the young corner, and Robert Lester, the safety from Alabama, have stepped up with the opportunities. Some guys on the D-line have flashed, and Nate Chandler has flashed very well at tackle. We're excited about what he's becoming."
QUICK HITTERS: Rivera said the battle for secondary spots remains wide-open, except in the case of free safety Charles Godfrey. "Charles had tremendous OTAs," Rivera said. "He and I talked yesterday, and I told him that I see a lot of maturity in his game." … At linebacker, Rivera is impressed by the versatility displayed by two newcomers in veteran Chase Blackburn and rookie A.J. Klein. "We're trying to find out who can be a guy that can play multiple positions for us, and we're seeing that very well with Chase and also with A.J.," Rivera said. … Fourth-round draft choice Edmund Kugbila sat out the latter stages of OTAs with a leg injury. Rivera isn't yet sure if Kugbila will take part in next week's minicamp but is still encouraged by his progress. "He's a very bright, smart young man," Rivera said. "He seems to be picking things up well, but until you actually get to apply what you're learning, it's hard to tell where he is."