INDIANAPOLIS – The Fritz Pollard Alliance honored a pair of Carolina Panthers on Friday for their commitment to extending opportunities to minorities and the success that has followed.
Ron Rivera, the third head coach in NFL history of Latino descent, received the Game Ball Award. Coming off a 12-4 season that earned him NFL Coach of the Year, Rivera received the honor with most of his diverse coaching staff in attendance.
Moments later, Panthers Owner/Founder Jerry Richardson was named winner of the Paul "Tank" Younger Award. Richardson had a hand in the hiring of Rivera and the decision to retain him for what proved to be his breakout season.
"It's most appropriate that Ron is receiving this award on the same day that our owner and founder, Jerry Richardson, is receiving the Tank Younger award," Panthers general manager Dave Gettleman said in introducing Rivera before a crowd that featured one-quarter of the NFL's head coaches. "Both awards are about giving people a chance. We all know that we wouldn't be here today if someone hadn't given us our chance."
The Fritz Pollard Alliance (FPA) is named for the first black head coach in the NFL – Pollard coached the Akron Pros in the NFL's inaugural season in 1922. The Paul "Tank" Younger Award is named for the first NFL player from a historically black college and the first minority executive in league history.
Rivera thanked the FPA for its role in helping him land a head coaching job after about 10 interviews, opportunities that came about in part because of the "Rooney Rule" that obligates NFL teams to consider minority candidates for head positions. The FPA contingent taking part Friday included Pittsburgh Steelers chairman Dan Rooney – for whom the rule is named – and FPA chairman and former NFL player John Wooten.
"There are a lot of people to thank, starting with the Fritz Pollard Alliance and Coach Wooten, a man who showed an awful lot of confidence in me," Rivera said. "Every year I went through this process, Coach Wooten was there for me. I hope people understand how important the Fritz Pollard Alliance is, not just for myself and others from minority backgrounds but for everybody because Coach Wooten deals with all of us in that same vein.
"I also want to thank Mr. Rooney for the Rooney Rule, which creates opportunities for a lot of people. All I've tried to do is give back, to create opportunities for people that deserve them."
Rivera also thanked a pair of NFL coaches in attendance: Andy Reid of the Kansas City Chiefs, who gave Rivera his first coaching job; and Lovie Smith of the Tampa Bay Buccaneers, who gave him his first coordinator position. Rivera also thanked his staff – a 16-deep group that includes eight minorities – as well as Gettleman and Panthers director of football operations Brandon Beane.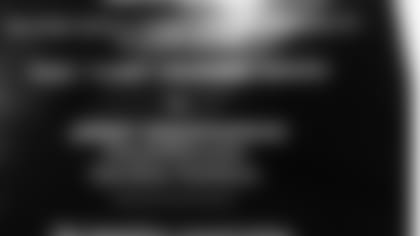 And, of course, he thanked Richardson.
"(Former Panthers general manager) Marty Hurney went out and found me, and Mr. Richardson put on his stamp of approval," Rivera said. "Then the last couple of years, Mr. Richardson has been a mentor to me. He's done a tremendous job of helping me develop as a coach.
"My first year was tough, my second year was tough, but we reaped the benefits the third year because I got the opportunity and took advantage."
Richardson was unable to attend Friday's ceremony. Matt Allen, his grandson and a Panthers scout, accepted the award.
"Thank you Mr. Wooten and the Fritz Pollard Alliance on behalf of my grandfather, Jerry Richardson, for such a prestigious award," Allen said. "My grandfather has always had a great respect and admiration for Tank Younger and is proud to be associated with the FPA.
"He regrets that he missed such a special event, but he promises to continue to promote diversity and equality in job opportunities throughout the NFL."
The FPA also presented "Mean" Joe Greene, a Hall of Fame defensive tackle who also served as an NFL coach and front office employee for more than two decades, with its Lifetime Achievement Award. Greene said the first NFL game he remembers watching featured Richardson and the Baltimore Colts in the late 1950s.
"From then on," Greene said, "I was hooked."