CHARLOTTE – Watching Sunday's game as it happened, Panthers head coach Ron Rivera couldn't help but feel that just a play or two could have made all the difference in Sunday's 12-7 loss to the Seattle Seahawks.
Watching the game back on tape, Rivera's concern went beyond a play or two.
"We didn't play smart football," Rivera said Monday. "That really bothers more so than anything else, and I just expressed that to the players."
Rather than it being one player who can be taken out of the lineup for making multiple mistakes, Rivera said it was multiple players making one mistake if not more.
The silver lining is that even with all the miscues, the Panthers were oh-so close to knocking off one of the early Super Bowl favorites.
"The disappointment is not necessarily that we lost as much as how we lost," Rivera said. "The thing I told them was that as we watch this tape, be honest. If you played 59 plays well and you played one play bad, that one play should really eat at you.
"I think the guys heard that message, and a lot of guys are going to respond the right way."
Many veterans, like tight end Greg Olsen, didn't have to wait for Rivera to address the team Monday to get the message.
"Every time we took one step forward, we took two steps back," Olsen said Sunday after he didn't secure a couple of catches. "They've got a heck of a defense, but you're not going to beat a good team and beat yourself at the same time.
"We all have our blame in it, me as much as anybody. We've got to get it right. We've got 15 games, and we've got to get it right."
There were errors that everyone could see when they happened, errors that clearly made a difference on the scoreboard.
No one could miss cornerback Josh Thomas, winded after playing catch-up on a deep pattern that nearly resulted in a touchdown, getting beat on the next snap by a perfect throw and catch for a 43-yard touchdown that gave the Seahawks the lead early in the fourth quarter.
And no one will forget Carolina threatening to answer that score and retake the lead late, only to have running back DeAngelo Williams' fumble inside the 10-yard line kill what proved to be Carolina's last drive.
On the other hand, there were much more subtle errors on plays that actually gained yards – just not enough yards.
"We have to do a better job tightening up a lot of little things," said center Ryan Kalil, who played for the first time since an equally tough loss to the Seahawks in Week 5 last year. "We had missed assignments where everybody kind of took their turn, yet we were still gaining three or four yards at a time. That's comforting, but what would really help is if we can detail it up.
"Maybe we can turn three or four yards into 15 or 16, and now you're really taking big chunks. You have to get those big chunks when you have the opportunity, and we didn't really do that a lot yesterday."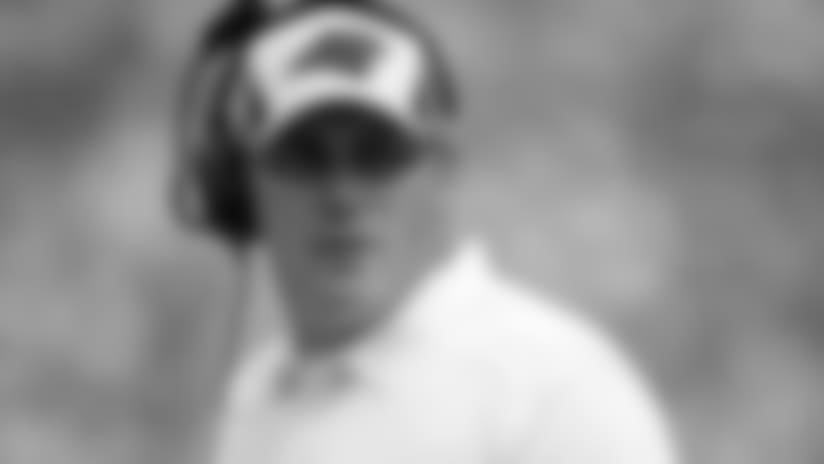 On the whole, Rivera was pleased with how hard his team played. The defense was aggressive, Williams ran with purpose, and the offensive line held its own.
The next step? Play with just as much heart while also playing with your head.
"It's not good enough to just go out there and play hard. You've got to play smart," Rivera said. "It's one thing to get beat doing what you're supposed to do and playing hard, but when you get beat and you didn't do exactly what you were supposed to, those are the things that really just get to you.
"They've got to continue to work, and we've got to continue to coach them up to put them in position to have success."