Comments from Carolina Panthers head coach Ron Rivera following the team's rookie camp.
On his evaluation of the rookie camp: We feel pretty good about it. We'll sit down tomorrow as a coaching staff and with (general manager) Marty (Hurney) and we'll talk about what we saw. We'll give the coaches a chance to digest everything and evaluate the tape from today. Then we'll get together and talk. But there were a couple of guys that did flash.
I was very pleased with what we got out of (linebacker) Luke (Kuechly). Luke played inside and outside for us this week. At the same, he showed that he is a sharp football player. (Guard) Amini (Silatolu), he had a slow start, but today he looked like he was starting to get it and understand. So that was a huge plus.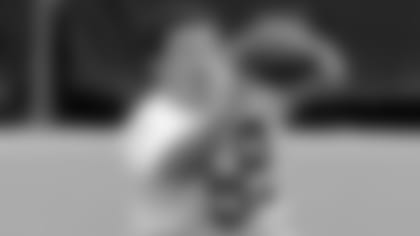 Very, very pleased with what (defensive end) Frank (Alexander) gave us. You saw the quickness, the explosiveness that led to him being the Big 12 Defensive Player of the Year. He did some really nice things.
Very pleased with (wide receiver/punt returner) Joe Adams. He caught pretty much everything that was punted to him. One thing that you would like to see him do is work a little bit more on his receiving abilities. Because once that ball is in his hands, he is a dynamic player. We saw it a couple of times today. He caught a couple of slants and quick ins over the middle, and there were some really good things that caught your attention. If we can get the ball in his hands on the offensive side of the ball with his ability to make people miss, you've got some plays that can be made.
Really good with what we got out of (cornerback) Josh Norman. I thought Josh looked very good, very solid. A corner with that kind of size and those long arms, he really flashed for us today. I really liked what we saw out of (punter) Brad (Nortman). Brad boomed the ball. I think his average hang time was anywhere between 4.8 and 5.2 (seconds). So there are some positives as far as that's concerned. We liked what we got out of (safety) D.J. Campbell. He did a nice job, showed that he's a smart football player. But one of the things that we are watching is his play on special teams. With the limited drills that we are allowed to do, I thought he handled those very well.
We saw a couple of PFAs (priority free agents) that we really like, and I'm real excited about them. We like what we got from the free agent receivers that we brought in. They did a nice job. We found guys that we like from the PFAs, and we're glad they're with us.
On if he likes the concept of having players in for a three-day tryout: I do. Any time you get an opportunity to evaluate people, you're going to find one or two guys. I was part of something we did in Chicago, and we found a couple of guys that eventually became part of what we did. One of them (Brandon McGowan) in particular went on to have a very good career in this league. It's an opportunity for us to evaluate and find some other guys and at the same time evaluate our draft picks and our PFAs that we have signed already.
On if this shows how tough the competition is for jobs in the NFL: When you start talking about the very bottom (of the roster), it's harder and harder to find guys. That's why you do these types of camps. Again, the limit is up to 90 guys, and that's 10 more than we're used to. To be able to find 10 guys that will fit what you want, that's the hard part.
On the emphasis the Panthers have placed on special teams this offseason: Very big for us. Yes, I think (special teams will be improved). When Marty was looking at certain free agents, one of the questions that he always wanted to ask was, "What can you do for us on special teams?" You look at some of the moves we made, bringing Kenny (Onatolu) in from Minnesota, Haruki (Nakamura) from Baltimore - these are guys that have a (special teams) background. Then bringing in Michael Tolbert (from San Diego). You're talking about three guys that have all played special teams and also can do some things for you on regular downs. That showed that was an emphasis. Going out and finding a punter that we think can make this club and be around for eight or nine years. So we felt very good about that.
On hiring Richard Rodgers as assistant special teams coach: Bringing Richard in showed the completion of our commitment to special teams. After having evaluated last year and looking at things, the one mistake we made was not giving (special teams coordinator Brian Murphy) Murph help. We've corrected that by going out and finding a guy that coached it in college. So he's got a background in it and was a physical player. I think he's going to add a little something to us and help Murph out tremendously.