CHARLOTTE – When Ron Rivera became the head coach of the Panthers in January of 2011, he knew the teams' decision with the first overall pick in the draft would shape his legacy in Carolina.
Cam Newton became the obvious choice, and at that moment, Rivera knew his successes and failures would be tied to his new franchise quarterback.
There wasn't nearly the same kind of pressure placed on Rivera's next first-round pick in 2012, but linebacker Luke Kuechly – the team's choice with the ninth overall selection – proved to be just as impactful.
In Newton and Kuechly, the Panthers found two elite centerpieces to build a franchise around.
"As I look at it, I couldn't ask for two better young players than Luke and Cam," Rivera said. "To me it's tremendous that we are in that type of situation. On both sides of the ball you have your primary leader. That's great for any coach."
Newton was the Heisman Trophy-winning national champion with the superstar persona. But Kuechly was a soft-spoken linebacker from Boston College with a name people couldn't pronounce.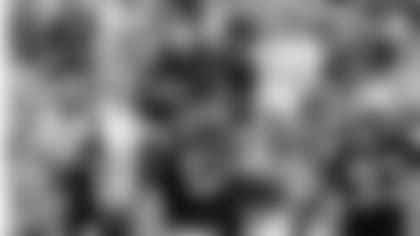 "I met Luke when I was at IMG (training academy) and he was running routes," Newton recalled. "I didn't really know who he was at the time. He had pretty good hands and I was thinking he was like a tight end. When we got him, I figured, 'Damn, he's a linebacker?'
"When I really dug down deep and found out who he was I extremely excited because we needed that type of dynamic player on the defensive side."
Newton took Kuechly to dinner following the linebacker's introductory press conference in Charlotte.
Newton quickly learned that yes, they are in fact very different. But when it comes to their commitment to winning, they are very much the same.
"I guarantee if you look in the linebacker room right now he's still in there," Newton said of Kuechly. "That's what people don't see."
Just as Newton had done for him when he was drafted, Kuechly has become a one-man welcome committee of sorts. He's always eager to introduce himself to new teammates to help them get acclimated to the Panther way.
"You go back to the Cortland Finnegan acquisition," Rivera said. "You always wonder will the players accept him? The first day he's here, Luke puts his arm around him and they go to dinner. That's the kind of locker room you want. You want guys that accept people, work with them and make sure they understand you don't need to be this or that, you need to be one of us."
What it means to be a Panther has changed during Rivera's tenure. With the help of Newton, Kuechly and a host of other invaluable contributors, Rivera took over a team that was 2-14 and quite frankly irrelevant in 2010, and turned them into 15-1 party crashers playing for the NFC Championship in 2015.
"It's part of the vision as a coach. This is about where I hoped we would be," Rivera said. "Not necessarily this sort of season as far as the record, but you would like to think that at some point in time between our fourth, fifth or sixth year we'd be in this type of position.
"Are we where we should be? Yes. Can we be further along? Probably. Is there more work to do? Most certainly."