CHARLOTTE – As the Panthers enter their bye week at 1-5, head coach Ron Rivera is drawing inspiration from a team that was in the same predicament last year.
"We've got an opportunity to do something that was done last year," Rivera said after Carolina wrapped up its only practice of the week. "A team started 1-5 and came back and put themselves in position."
That team was the Kansas City Chiefs, led by Rivera's good friend and former colleague Andy Reid. The Chiefs won their first game then lost five straight before rattling off 10 consecutive wins.
They joined the 1970 Cincinnati Bengals as the only teams to start a season 1-5 and make the playoffs.
"That's what we're working towards," said Rivera, who hasn't reached out to Reid because the two teams play each other in Week 10. "We'll see what happens."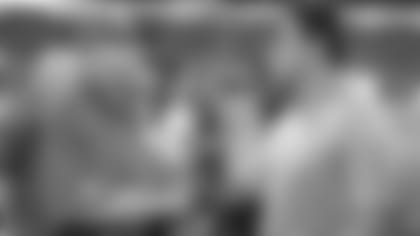 While it's nice to see that its been done before, linebacker Thomas Davis said he has faith in a turnaround regardless.
"Whether it has been done not or not, we believe in each other on this team, and we feel like we can do it," Davis said. "But it's all about winning one game. It just really starts from there. We can't get too focused on what's going to happen after playing the next game. We have to make sure we're focused in on Arizona."
Rivera remarks on roster moves: When asked about the number of tight ends on the roster increasing to four, Rivera said Scott Simonson and Chris Manhertz were deserving of the opportunity.
Simonson has impressed the coaching staff throughout his time with the team, and Manhertz brings an intriguing skill set as a former college basketball player.
"We wanted to get Scott Simonson back," Rivera said. "He's a young man we feel really good about.
"We think (Manhertz) has got a chance to help us, that's why we brought him in. We got to watch him on tape and really liked what we saw. He's an intriguing guy."
As for the decision to waive defensive end Lavar Edwards, Rivera said the Panthers feel more comfortable moving forward with Wes Horton, who has been in the system for three years.
"Wes knows what we're doing," Rivera said. "Lavar didn't have the benefit of being around in training camp, and that's the hard part."
View photos of the Panthers' practice heading into the Bye Week.