SEATLLE – After a historically long road trip made longer still by the disappointing outcome of both games, the Carolina Panthers boarded a cross country overnight flight that brought with it visual proof that the sun will come up tomorrow.
But while happy to be home following a 10-day, nine-night sojourn that covered more than 6,000 miles, the Panthers still had to face the reality of a long road in front of them.
Carolina left for sunny California with hopes of finding a silver lining there, hoping to head home with victories over two of the NFL's top two teams to send them home at 6-6. Instead, after following up a narrow loss in Oakland with a lopsided one in Seattle, the Panthers are 4-8.
"I can't tell you the last time I've lost that bad. Those are humbling experiences," tight end Greg Olsen said after the Panthers' 40-7 loss to the Seahawks. "Right now the reality is we can stop worrying about the playoffs. We're not very good right now – that's the reality.
"We're having trouble just trying to win one game. That's all anybody should care about. Win one game. Prepare that way, play that way. Play smart, execute and win one game. That's it. Everything else is white noise."
The notoriously noisy fans at CenturyLink Field had plenty of reason to hoot and holler from the first play to the last Sunday night. Before the information could be processed that quarterback Cam Newton wasn't trotting out to start under center for the Panthers, backup Derek Anderson endured an interception on his first and only snap of the game, setting Seattle up for the game's first points.
The Seahawks' lead grew to 23-7 at halftime, but the Panthers, having started the West Coast swing by trailing the Raiders 24-7 at halftime only to score 25 consecutive points, believed another turnaround was possible. Then, though, the first offensive snap of the second half hurt even more than the first snap of the game, as wide receiver Tyler Lockett speed around the right side and jetted 75 yards for a touchdown.
That play, in addition to abruptly ended realistic hopes of a rally, also typified what the Panthers are facing. Defensive end Charles Johnson, testing his hamstring for the first time since leaving in the first half after a sack, was clearly hobbled and couldn't make an impact on the play – his last of the game. And once Lockett got outside, the run support that had the Panthers ranked second in the league in rushing yards allowed entering play simply wasn't on point.
"We missed some plays, and the toughest thing probably is the lack of discipline as far as being where we were supposed to be. That's what bothers you the most," said head coach Ron Rivera, who added that "health, lack of health" was taking its toll.
"But whether you're playing your top-notch guys or you're playing your backups," Rivera continued, "it still comes down to execution and playing well in all three phases."
All do-everything linebacker Luke Kuechly could do was watch from the sidelines for the second consecutive game, and secondary stalwart Kurt Coleman was right there with him – both in the concussion protocol. Sack leader Mario Addison didn't even make the trip with a foot injury, and Johnson didn't return after the opening play of the second half.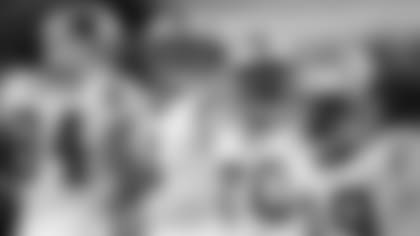 On offense, Newton was out for just a play – but what a play – for violating the team's travel dress code on the way from San Jose on Saturday. The decimated line in front of him didn't allow him to be sacked a single time, something few fronts ever accomplish against Seattle, but Newton and the offense could never really establish a lasting rhythm.
The Seahawks, by contrast, were healthy (at least at the beginning of the game) and hungry, coming off a 14-5 loss at Tampa Bay. Four defensive starters, among them All-Pro safety Earl Thomas and All-Pro defensive end Michael Bennett returned to action. Thomas eventually left with what is a season-ending leg injury. But one of the unsung returners – linebacker Mike Morgan – set the tone by picking Anderson on that first play.
Running back Thomas Rawls had played two games before Sunday in his return from a leg injury suffered in Week 2, but he truly returned to form for the first time against the Panthers. Entering the game with 120 yards and no touchdowns on the season, Rawls rushed for 106 and two touchdowns as recent retiree Marshawn Lynch looked on from the sidelines.
The stars aligned for Seattle on Sunday, a perfect storm that created a nightmare of a night for the Panthers. Sweeping two such worthy opponents on the opposite side of the country was an ambitious but necessary hope when the Panthers headed to the West Coast what seems like so long ago, but after it didn't work out they returned with a laundry list of things to try to accomplish over the final month of the season.
"I'm not blaming it on being out here on the West Coast at all. That's the nature of the business," linebacker A.J. Klein said. "You've got to play wherever they say you're going to play, and that's on us to be prepared mentally and physically. We did the best job we could with where we were, and we've just got to put this behind us.
"We've got four more games to play. This team isn't going to lay on its back and die. We're going to continue to fight."
View game action photos from Carolina's 40-7 loss to Seattle.