Head coach Ron Rivera, named NFL Coach of the Year two of the past three seasons, addressed the media Thursday about the civil unrest in Charlotte this week. Below are excerpts from Rivera's press conference:
On if he's proud to have players with the type of character as Thomas Davis and Greg Olsen in his locker room:"Very much so. I think both those young men represent who we are, and I think it's important that they get an opportunity to speak on this. It's a very hot issue right now, an interesting topic. I think they spoke very well and spoke from the heart about how they feel about the city of Charlotte. What we've seen the last couple of nights is not emblematic of who Charlotte is. It's a tremendous city, it's a great city, it really is. I think right now, people wanted to have a peaceful protest. I think last night some agitators, some people who had their own agenda, their own narrative, took over and created a situation that wasn't Charlotte. That's tough, because I know Charlotte is better than that. I've seen Charlotte's true character firsthand. From when Cam (Newton) rolled his car and had his accident, my house burned down and my brother passed, the way the community gave us support and showed us love – that's Charlotte, and the last couple of nights haven't been. I don't think that's a fair portrayal of who this city is, who this community is. We are better than that.
"I think the thing that we have to understand and realize is that this is a very difficult situation right now, and I know Thomas and Greg both made mention of the loss of life. I think it's very unfortunate, and there are a lot of things that have to come about. First and foremost, there has to be some transparency. There has to be some truth. Once we find those things, once we get those things I think we can begin the process of healing. I think that's important that it's put out there. I think so because that's what the people want. They just want answers, and they want the truth. You can get that from transparency, so hopefully as Mayor (Jennifer) Roberts and the police chief spoke about this morning, about doing their job and getting all the information together and then trying to be as transparent as possible so that everybody finds out exactly what happened, we can go forward. I think that's very important because, right now, we need to have a solution."
On if he believes the football game should be played here Sunday:"Yes, I do. I think we should play the football game here. I was in San Diego when they had the fires. I know it's different to a degree, but playing the game helped to bring some normalcy. I think that's what people are looking for. We're in a state of emergency. It's unfortunate, but I think there are certain elements right now that are driving the situation. I think there's a group of people that want to protest the right way. They want a peaceful protest. They want to make their point. But unfortunately there are some agitators that have an agenda and want to do it their way, and it's not the right way. Once things can get settled down, do it the way Chief (Kerr) Putney's trying to do and Mayor Roberts is trying to do, I think this city can get back to who she is."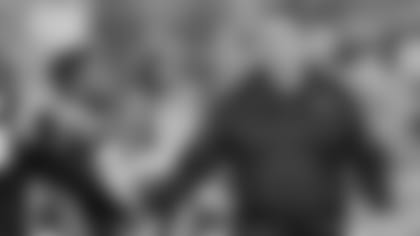 On possible solutions to the social issues facing the country:"This has to be a national discussion. It has to be. But at the same time, we have to do it the right way. You guys know how I feel, I always talk about voting. I talk about what happened eight years ago. This country elected an African-American president. To institute change, you've got to have some serious politics involved. The biggest and strongest thing you can do is vote. Get politically involved. Make a difference. Do it the right way. I really do believe that's how you do it. That what this country's supposed to be founded upon. It's democracy. Majority rules. I think that's what we need to do. More so than anything else, we need to get educated.
On how the issues hit home:"I'm not going to weigh in on either side. I think I have a little bit of perspective on this situation, to a degree. I have an ethnically-mixed family. My younger brother is married to an African-American. Their kids favor her side in color. I worry about them. I do. But I also have brothers and other family members and friends that are police officers, and I worry about their safety as well. So I'm not going to weigh in on that part. But, we have to find a solution, and I think it's through education, transparency and the truth."
On what the conversation has been like in the locker room:"The neat thing has been when it's time to do football, we've done football. But when it's times like this and they have some moments, you do hear them talking about it, you do hear them discussing it. You hear it pretty openly. As Greg said and as Thomas said, if you look at the locker room and you look at the diversity, I think Greg said it best, in where they're all from. Different socio-economic backgrounds. All races and colors. Yet they talk to one another. They care about one another. The thing that I think has really helped to make this team strong has been what goes on in that locker room. What's even more impressive is when they have something going on, like when Thomas has something to do with his Defending Dreams Foundation, or Greg has The HEARTest Yard or Cam has his events, they turn out in numbers for one another. They support one another. And I think Greg said as well that we can do that in the community. We can all come together. I think this community can. I've seen it firsthand, the greatness of Charlotte."