CHARLOTTE - When head coach Ron Rivera discussed the contributions of "veteran guys" in reference to the team's recent turnaround, he was actually talking about the team-record six rookies in the starting lineup for Sunday's victory over the Tampa Bay Buccaneers.
"Veteran guys – by that I mean guys that have played a lot of snaps," Rivera said. "You've got to give credit to the fact that these young guys have developed."
The Panthers started a pair of rookies at three different position groups, and they all made a positive impact in Carolina's 19-17 over the Tampa Bay Buccaneers.
Trai Turner and Andrew Norwell teamed up at right and left guard for the fourth consecutive game; cornerback Bene Benwikere and safety Tre Boston started together for the second consecutive game; and Philly Brown joined every-week starter Kelvin Benjamin at wide receiver.
Knee and ankle injuries kept Turner, the Panthers' third-round draft choice, out of action for three games midway through the season. That further opened the door for Norwell, an undrafted rookie, to get more snaps, and now they're on the field at the same time flanking four-time Pro Bowl center Ryan Kalil.
"If you look at the play of the two young guards, that's something that's been really solid for us," Rivera said. "Earlier in the year, we were mixing and matching when guys were hurt and guys were still developing. But as the two young guards got their opportunity and started to play well and got better and better each week, that has really helped us.
"The nice thing is they're next to Kalil, a veteran that's solid there and helps them."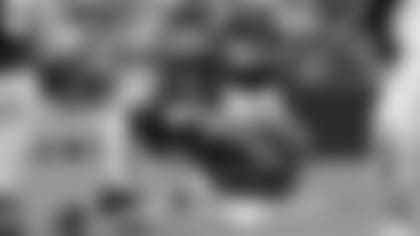 A veteran is also helping a defensive backfield now featuring two rookies. Ninth-year pro Roman Harper has been the only constant in the secondary, but even he is in his first year with Carolina. Third-year cornerback Josh Norman has played like a veteran over the last two months, as has new nickel corner Colin Jones.
And now Benwikere, a fifth-round draft pick just recently back from a six-game absence, and Boston - a fourth-rounder just getting up to speed after missing the preseason due to injury - aren't playing like rookies anymore.
"It's a complete transition as far as our secondary is concerned. We have five new starters – the four regular spots and the nickel," Rivera said. "I really like what we're getting from Bene. He's healthy. He's playing football. He's got great ball skills. He's got great vision.
"I think Tre Boston has shown his speed and what speed does for you. He's giving us a chance. Josh Norman has really developed into what we do and how we do it, and we're starting to see the fruits of that labor. Colin Jones has been a special teams ace, but he's a skilled football player. And you have Roman as a veteran leader. It's great to have a guy like that."
At wide receiver, it's easy to forget Benjamin is a rookie. The first-round draft choice third among a deep class of rookie wide receivers in receptions with 67, is second with 952 yards and tied for second with nine touchdown receptions.
Brown's speed has opened up things on offense, whether he's being targeted or he's creating good looks for other targets. The Panthers opened the Tampa Bay game with a reverse to Brown that gained 17 yards.
"There are a lot of young guys out there trying to do things for us," Rivera said. "We had to develop and grow as a football team more than anything else."