What is Dave Gettleman's thought process by depleting any chance of having a decent 2014 season? Not only is Steve Smith gone, but Ted Ginn, Brandon LaFell and Captain Munnerlyn. In the last week, I have seen nothing but players leaving. – Joseph in Westfield, Mass.
"We'll make the best decisions for the Carolina Panthers, as we always do."
Those were the words of Gettleman at his joint press conference with head coach Ron Rivera two days after the Panthers' season ended with a loss in the NFC Divisional Playoff. He wasn't talking about any particular move to come but rather about his vigilant approach to building a roster.
The Panthers' offseason roster movement to date has created a feeling of frustration among some fans as quality players that helped the Panthers go 12-4 last season walk out the door. But there are multiple factors that went into every decision, some that we aren't privy to. Pressing the panic button this early into the roster-building process would be short-sighted, and short-sighted is one thing Gettleman is not.
"Everybody's on the outside looking in," Gettleman said at the January 14 press conference, speaking generally about the tough decisions he and other general managers around the league face. "When a team makes the decision to let a legitimate quality player walk out of the door, the first thing you do is sit there and you say, 'What are they doing?' The fact of the matter is that there's stuff behind closed doors that we don't know about. I don't care what team it is or what sport it is – you don't know all the facts. Unless you know all the facts, all you're doing is speculating. That's all it is – pure speculation.
"Everybody has their things they have to deal with. It varies from team to team. There's a million reasons why things like that happen."
While Gettleman hasn't slipped a copy of his master plan underneath my door, I don't agree with the notion that he's "depleting any chance of having a decent 2014 season." I'd run the Panthers defense as is out there tomorrow and take my chances. The offense isn't ready for a game tomorrow, but the season opener is nearly six months away. Six months.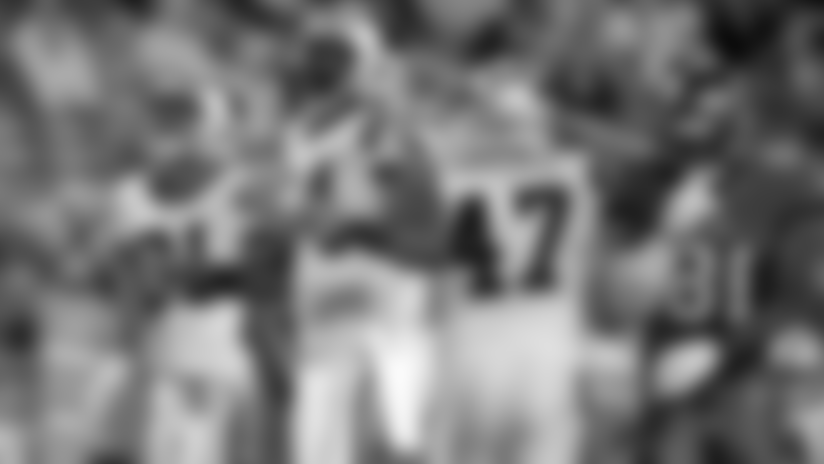 Are we going sign any free agents? Why are we JUST re-signing Jason Williams and James Dockery? – Carl in Chesapeake, Va.
To be fair to Carl, his question came in before the Panthers signed two-time Pro Bowl safety . Harper should be able to step in right away where Mike Mitchell left off. And also recall that defensive end Greg Hardy, fresh off a team-record 15 sacks, is returning rather than testing free agency.
Williams and Dockery aren't headline-grabbing signings, but they're important ones. With Jordan Senn gone, the Panthers need strong special teams players to repeat the success of 2013, plus Dockery could very well compete for a significant role at cornerback. Besides, the reality is that offseason NFL rosters balloon to 90 players. The Panthers stand at 66 now. Not every signing is going to be of the earth-shattering variety.
But more to your point, I think you're expressing anxiety over the lack of marquee signings so far. Gettleman has warned that salary cap concerns will limit what Carolina will be able to do, but regardless of that, let's travel back to this time last year.
Before the new league year began, the Panthers released cornerback Chris Gamble, the franchise's all-time interception leader. They then allowed cornerback Captain Munnerlyn, safety Sherrod Martin, defensive tackle Dwan Edwards and third receiver Louis Murphy to become free agents. After the new league year started, they released James Anderson, the franchise's all-time leader in games played by a linebacker.
How are the Panthers going to field a competitive secondary, fans asked? How are they going to get any push from the middle of their defensive front? What are they going to do for depth at receiver?
Two days into free agency, the Panthers signed veteran cornerback Drayton Florence. Eight days in – the equivalent of today on the league calendar, they inked cornerback D.J. Moore. Two days after that, they re-signed Munnerlyn and a former backup safety for the Oakland Raiders named Mike Mitchell. The next day brought wide receiver Ted Ginn, who had caught two passes for 1 yard the previous year. The next week, Edwards re-signed.
How are the Panthers going to field a competitive secondary, fans continued to ask? How are they going to get any push from the middle of their defensive front? What are they going to do for depth at receiver?
The Panthers hit big in the draft and with undrafted free agents, particularly at defensive tackle and in the secondary. The team proceeded to win the NFC South, and now the crickets that were heard following the signings of Ginn and Mitchell and the re-signing of Munnerlyn have turned into fans chirping this offseason about how the Panthers could possibly let those players walk.
Just a little perspective. And a call for patience.