The 2017 version of Carolina Panthers training camp has come and gone, but the events of the past 20 days won't soon be forgotten. Here's a look back through the eyes of your esteemed Panthers.com writers, along with a look ahead at what it all means.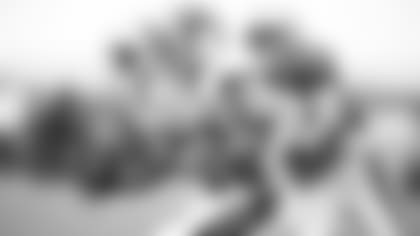 Bryan Strickland: Christian McCaffrey. The starting quarterback almost always has the ball in his hands more than anyone else over the course of camp, but a rookie running back unofficially took that title. McCaffrey was everywhere and was good everywhere he went, even playing quarterback (kind of) in the "WildCaff" formation as it was affectionately called back in his Stanford days.
Bill Voth: Taylor Moton. Everything you read about the McCaffrey the past few weeks wasn't just hype. It was deserved. But since a top-10 pick should have looked like he did, I'll go outside the box here. Notice how little you heard about Moton during camp? That's a good thing for an offensive lineman. Daryl Williams has been earmarked as the starting right tackle for a while now, so the more versatile Moton can become, the more valuable he could be. The second-round pick saw some reps at left tackle reps this spring, and in Spartanburg, he added experience at both guard spots. When Moton first entered last week's preseason opener, it was for Andrew Norwell at left guard. After Moton impressed coaches there, he did the same when he shifted to tackle. Let's just say folks in the building are extremely excited about a guy who will turn the ripe old age of 23 on Friday.
Max Henson: The first-round pick takes Offensive MVP honors for me. McCaffrey, with his burst through the line and natural pass-catching ability, was as impressive as he could have been during training camp practices that didn't feature any live tackling. But if we're being honest, defenders had a hard enough time getting a single hand on the elusive running back, let alone bringing him to the ground.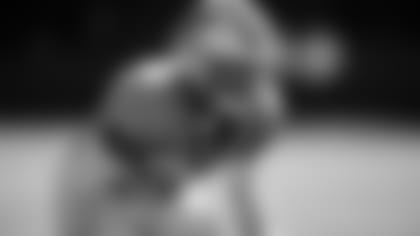 Strickland: James Bradberry. Hard to argue with Russell Shepard's take on this one. The second-year cornerback was in the middle of the action and mostly came out on top. Every defensive back gets beat from time to time, but Bradberry made life difficult for a group of receivers that actually enjoyed a good collective camp – just not often at Bradberry's expense.
Voth: Bradberry. It was a surprise when he showed up for camp with the left wrist he broke this spring again in a cast. That was just precautionary, though, and it didn't stop him from making plays. Bradberry set the tone on opening night, jumping in front of Shepard out route to intercept Cam Newton's pass. That was the first of what would become a bushel of Bradberry picks.
Henson: Bradberry is an excellent choice. In the interest of offering something different, I'll go with defensive end Julius Peppers. I know the 16-year veteran got plenty of days off, but he literally stood out throughout camp. Every teammate who was asked about Peppers marveled at his sheer size and strength. It's clear the defense is a more confident bunch just knowing Peppers is on their side. And when he lined up for one-on-ones or team drills, he proved he's still got plenty left in the tank. I don't think I've ever seen defensive line coach Eric Washington smile as much as he did watching Peppers do his thing in Spartanburg.
Strickland: While Bradberry was my MVP, running mate Daryl Worley stood above the crowd on one play. Wide receiver Kelvin Benjamin is virtually unstoppable in the red zone but Worley found a way, climbing the ladder with the skywalker and securing the most impressive takeaway of camp (It's worth noting that during the same practice, Brenton Bersin made an equally impressive catch).
Voth: Yes, it was just one rep in a drill where the defense was at a significant disadvantage. And, sure, if it were a game, other defenders would have converged on the play. But there's a reason my pick for best play went viral. It's not every day you someone pull off video game-like moves against the NFL's best inside linebacker.
Henson: That juggling touchdown catch by Funchess on the second-to-last day of camp was ridiculous. First off, he had to beat Bradberry down the sideline. Then he had to reach out with his right hand to tip Derek Anderson's pass to himself. After another tip with the right hand, Funchess corralled the ball with his left, securing the definition of a highlight-reel touchdown.
Strickland: Damiere Byrd. The wide receiver has been trending in the right direction since this time last year, but he did much more than flash at this camp. Sure, he used his world-class speed to make some plays but didn't stop there. His performance in the preseason opener epitomized his camp-long effort – a long touchdown grab and one underneath.
Voth: The weather. I'm obviously going outside the box again. This may be a case of what have you done to me lately, but of the 13 camps I've covered at Wofford, this one easily seemed like the "coolest." At most, there were two practices where temperatures and humidity gave small samples of typical suffocating Spartanburg summer days. And except for a couple of practices when the sky spit a bit, rain was never an issue. For the most part, it felt like this camp was in San Diego. Without the ocean. And beaches.
Henson: Amini Silatolu. For a guy who didn't play at all in 2016, Silatolu was pretty darn impressive. He was giving the defensive ends fits during one-on-ones, and when Matt Kalil was sidelined, he held his own as the first-team left tackle. If he can stay healthy, Silatolu could be a very valuable depth option for the offensive line.
Strickland: Defensive back depth. While the starters up and down the secondary answered the call throughout camp, what happens if one or two go down to injury? Captain Munnerlyn would be ready to take some snaps on the outside, but he's the best option at nickel. At safety, veteran Colin Jones is always ready to step in if need be, but with Dean Marlowe now on injured reserve, what then? The good news is that corner Cole Luke and safeties L.J. McCray and Dezmen Southward flashed during camp.
Voth: Left tackle depth. It's hard enough to field two good starting tackles in the NFL, so it's that much harder to find above average backups. As mentioned above, Moton excited coaches, but like Williams, he's a natural right tackle. Of course, if left tackle Matt Kalil can stay healthy and revitalize his career, he'll be worth his big-money contract. If he can't, Silatolu would appear to be the next man up. As Max detailed, the 2012 second-round pick has been a pleasant surprise in his move from guard to tackle so far, but the last time he played tackle in a game it was against Division II opponents. Plus, he's struggled to stay healthy. So to me, the Panthers' potential house of cards is again at left tackle.
Henson: Since the secondary and offensive line have already been mentioned, I'll go with rookie wide receiver Curtis Samuel and his strained hamstring. Training camp practices are an important part of the learning process for rookies, and the second-round pick practiced just once in Spartanburg. The Panthers are being understandably cautious with the speedster, but now he'll have to play catch-up to prove he can be counted on at the start of the 2017 season.
Strickland: Cam Newton not being able to throw for more than half of camp wasn't ideal, but that should all be forgotten by the time the regular season kicks off. The offense has to feel good about its growth in camp despite that, and the starting defense broke camp in a good place. Time will tell how much better this offensive line is than 2016, and as is often a reality in the NFL, the quality of depth up and down the roster will be tested at some point. Signs point to the eventual 53-man roster being up to the task.
Voth: Relative to most NFL rosters, the Panthers have a heap of starting talent on both sides of the ball. But while the roster has the potential to make 2016 look like a blip, what concerns me most is what will happen when the inevitable injury bug bites. The Panthers got out of Spartanburg without any season-ending injuries, so that's a good start. But so often in the NFL, the most successful teams are ones that stay relatively healthy while filling whatever holes pop open with young guys who are ready to play. If the Panthers can regain a little bit of the good luck they had in 2015 and get rid of some of the bad juju they had last season, they have a good chance to regain the NFC South title ­– at least.
Henson: Yes, this roster has the look of a contender. The defense, with a loaded front seven and a pair of second-year corners on the rise, should be among the league's best. But as we all know, this team will go as far as Newton takes it. His shoulder soreness was carefully managed throughout camp, and the Panthers are planning to have him ready for Week 1. Will the lack of live reps affect his early-season performance? Time will tell. But if the 2015 NFL MVP returns to form, look out.
View photos from Carolina's fifteenth practice at training camp.