With the Panthers being stacked in the running game, do you think DeAngelo Williams and Jonathan Stewart will ever be the dangerous duo they were in 2009? – Rylan in Taylorsville, Utah
From a statistical perspective, Williams and Stewart enjoyed unparalleled success in 2009, becoming the only teammates in NFL history to each rush for 1,100 yards in the same season. Obviously, they won't repeat that feat this season, but their impact on the bottom line can be even greater.
Williams and Stewart, along with fullback Mike Tolbert, are obviously crucial to the Panthers' ball control approach on offense. Williams is 10th in the league with 565 rushing yards, Tolbert is tied for 10th with four rushing touchdowns, and Stewart is only beginning to hit his stride two games into his season.
For all the yards Williams and Stewart produced in 2009, that team was 4-5 at this juncture and finished 8-8. Right now, they are pivotal pieces for a team that has won five consecutive games to stand 6-3.
Ron Rivera gets no respect. His forte is defense, and he's certainly done a fantastic job winning five in a row. The so-called experts have not mentioned a darn thing about his successes, only talking about him early in the season when his job was in jeopardy. Come on man! – R.J. in Austin, Texas
Praise for the job that Rivera has done is trickling in, and obviously the talk about his job status has subsided. The Panthers defense ranks second in the NFL in points and yards allowed, and only the unbeaten Kansas City Chiefs have a longer current winning streak than Carolina. Rivera does deserve more credit, but he's not losing sleep over it. Instead, he's spending every waking hour trying to keep his team relevant, and continued winning will eventually shed a broader light on the good work he's doing.
Is there a place to watch the entire Panthers-49ers game that I missed? – Ken in Charlotte
Your best bet is to subscribe to NFL Game Rewind. Depending on the package you pick, you can watch every NFL game already played this season or perhaps watch Williams and Stewart along their path to 1,100-plus yards back in 2009. Any of the packages would include the Panthers-49ers game, an instant Carolina classic to be sure.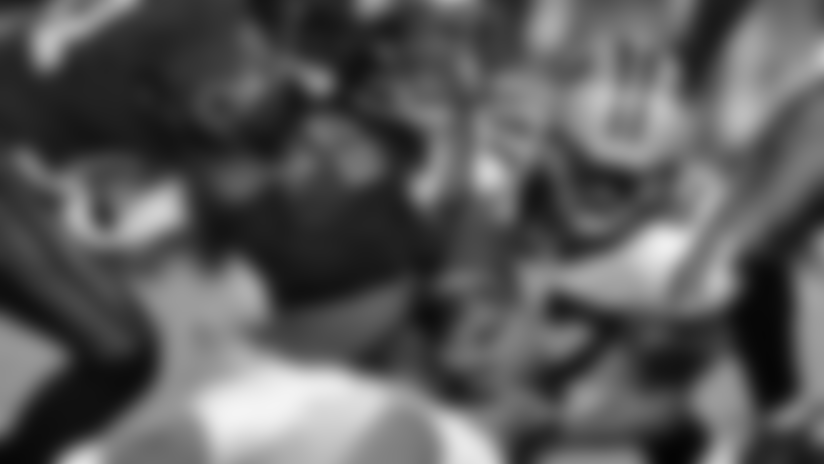 How come Domenik Hixon hasn't been more involved in the offense? – Olvan in Alexandria, Va.
It's not an indictment on Hixon as much as it's an indication of how well Ted Ginn has played. The Panthers are using a lot of two-receiver sets featuring Steve Smith and Brandon LaFell, and when they go to three receivers, they want Ginn's speed in there. Hixon has caught a pass in two of the Panthers' last three games, a sign that he's ready to contribute if his number is called.
What is Josh Norman's situation? – Michael in Fort Worth, Texas
Norman, a second-year cornerback who led the NFL with four interceptions in the preseason, has been inactive for four of the last five games. He struggled some early in the regular season and suffered a thigh injury, and that opened the door for the likes of veteran Drayton Florence and undrafted rookie Melvin White to step up and grab roles.
"It's about competition," Rivera said. "That's what we're trying to foster here."
Norman certainly could get another chance. He has to be ready for it.
Can I be your quarterback in 2028, please? Age 8. – Benjamin in San Antonio
Are you that kid from the Cam Newton commercial on the playground? But seriously, Benjamin, you can be our quarterback in 2028, though it will take a lot of hard work and a lot of good luck. Of course, Newton himself could have something to say about that; 2028 could be his 18th NFL season.