SPARTANBURG, S.C. – Cam Newton is a big reason why Russell Shepard decided to become a wide receiver for the Carolina Panthers.
"I followed Cam for a number of years, me being a quarterback prior to college and me being a Texas kid and watching him take Blinn (Junior College) to a national championship," Shepard said. "Me being an SEC guy and watching him come to the SEC for one year and causing havoc and breaking all type of records taking Auburn to the national championship - watching him and his leadership style, his style of play, his confidence, his swag as he says - I'm a big fan of Cam Newton. Big fan."
Shepard is no longer just a fan of Newton; he's a teammate of Newton. But since signing as a free agent in March, Shepard hasn't yet been on the receiving end of a pass from Newton, who didn't throw a pass to anyone during offseason workouts as he rehabbed from shoulder surgery.
That changes Wednesday night at the first practice of training camp.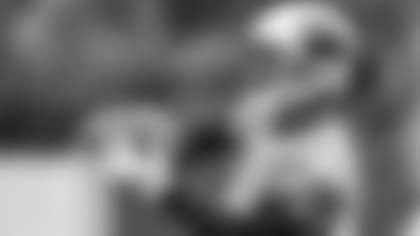 "I'm geeked up," Shepard said. "I'm looking forward to catching balls from him and having fun.
"I just need to keep gaining his trust on the field and make plays for him – simple as that."
This has the makings of a very entertaining partnership. Both Newton and Shepard crank up the volume, so to speak.
"One thing you're going to say about me is I'm a loud dude," Shepard said. "I'm new to this organization, so I'm not as loud as I'm going to be toward the end of the year. But it's all for the betterment of the team. My actions reflect strictly winning and good vibes and energy. I feed off Cam, and I think Cam is going to feed off me. I look forward to being loud with him."
And while Newton and Shepard work to develop chemistry, there have already been talks about their sons doing the same.
"Moses is 14 months and he's the baddest walking thing on this earth, man," Shepard said of his firstborn. "I tell Cam all the time we have to get this duo going. I need (Cam's son) Chosen to deliver the ball to Moses. Those are two powerful names, and I think we can get something going."