CHARLOTTE – The roster page on every NFL team's website lists players by their last name, then their first name.
That means Panthers safety Anderson Russell is listed as Russell, Anderson – a familiar sight for him.
"That's been happening my whole life," Russell said. "You can't do anything but laugh. It's all good."
Besides, the man with a name that's easy to transpose is focused only on making sure his name isn't removed from the roster when cut day arrives.
Considered a longshot in a logjammed secondary, Russell got the start in Sunday's preseason victory over the Kansas City Chiefs and recorded four tackles.
"It was a very important opportunity for me – I knew that going in," Russell said. "But it's a day-in, day-out thing. It's not like you have one good game and everything is done. You have to forget about what you did the day before and start from scratch each day."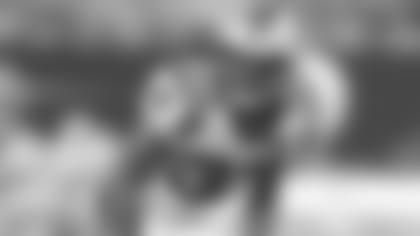 Come Tuesday, when the Panthers returned to practice, Russell took most of the first-team reps.
"Anderson has done a great job for us. He competes very hard," head coach Ron Rivera said. "He did a nice job the other night, and he'll get another opportunity. We're going to mix Robert Lester in as well, and we'll see how those guys compete."
Lester was a longshot of sorts this time last year, an undrafted rookie who made the practice squad and quickly ascended to the 53-man roster, playing in 12 games with four starts. This preseason Lester has his hands full with Russell, who is vying for a roster spot alongside veteran acquisitions Roman Harper – who is currently out with a toe injury – and Thomas DeCoud.
Russell is a bit of a veteran himself – a veteran journeyman.
"It's been a roller coaster career for me," said Russell, whose name has been listed on NFL transactions 20 times since his rookie year in 2010 – including six moves involving the Panthers since 2012. "I got hurt my rookie year, and things have been up and down ever since. The good Lord has blessed me and brought me back from a serious (knee) injury, and I'm still here so I'm thankful for that. I'm just trying to make the most of this opportunity."
Following four rock-solid seasons at Ohio State, it's been a rocky path through four NFL seasons for Russell. He started out much like Lester, signing with the Washington Redskins as an undrafted rookie, earning a spot on the practice squad, then making his way to the active roster and playing in two games. But early in that second game, Russell suffered a knee injury that essentially ended his time with Washington. He was waived in the final roster cutdown the next year and spent the 2011 season bouncing back and forth between the Miami Dolphins practice and the unemployment line.
Russell finally played again midway through the 2012 season for three games with the Dolphins, and then for three games with the Panthers after Miami waived him. An ankle injury ended Russell's 2013 season before it started, and after spending the year out of football, he re-signed with Carolina in February.
Even with all the bouncing around, Russell has stayed steady.
"You've just got to stay patient and keep working on your craft until you get another call. Thankfully I did," Russell said. "I've just tried to be consistent. That's the most important thing – being consistent to where your coaches trust in you and your teammates trust in you."