CHARLOTTE – All-Pro center Ryan Kalil practiced in full Tuesday – his first full practice since suffering a shoulder injury against the Cardinals in Week 8 – and he is preparing to play against the Saints on Thursday night.
It's difficult to measure Kalil's importance to the Panthers. The five-time Pro Bowler is one of the best at his position, and his smarts and leadership elevate the entire offense.
"It was great to get a core guy back," quarterback Cam Newton said. "Everything goes through Ryan Kalil. He's made my life extremely easy. He's been somewhat of my hidden jewel because he does more things for a quarterback than anybody probably in the league. Sometimes he doesn't get enough credit for it."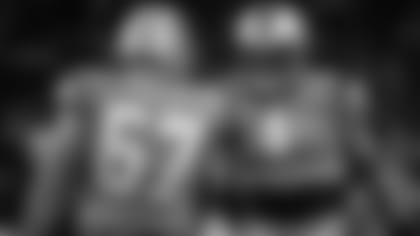 Despite his best efforts, Kalil was ruled out of Carolina's previous two games. Gino Gradkowski started both games in his place.
"It was tough watching from the sidelines, but that's how it goes," Kalil said. "Gino did a good job, and now we're back this week."
Two weeks ago, Kalil was a spectator as the Panthers claimed a 13-10 victory over the Rams at the Los Angeles Memorial Coliseum – the stadium where Kalil played his college ball for the University of Southern California.
"It was eerie being the Coliseum and watching your teammates play on that field," Kalil said. "It would have fun to be out there with them."
On Sunday, Kalil was again forced to watch as the Panthers let a 17-point lead slip away in a loss to the Chiefs, sending Carolina to 3-6 on the year.
"It's no secret what our record is," Kalil said. "We just have to figure out a way to finish these games. We have to be better and be more disciplined."
Everyone knows Kalil will be ready to do his part in his return.
"It's very important – at least to me – that I'm out there doing my job, doing what I get paid to do," Kalil said. "Over the years, I've learned how to manage pain and injuries. That's part of the game.
"And when you do get hurt, which is going to happen, you fight like hell to get back for your team."
View photos of the Panthers' week of practice leading up to their Thursday Night game against the Saints.