NEW ORLEANS – Despite all the big plays they gave up, the Panthers defense had the opportunity they wanted after the offense tied the game 38-38 late in the fourth quarter.
"Get off the field. That's it," linebacker Luke Kuechly said. "Make a play and get off the field on third down."
Instead, it was the Saints offense that came through, converting on the key third-and-9 and driving 41 yards to set up the game-winning 52-yard field goal in the closing seconds.
"As a defense, you want an opportunity to win the game," safety Kurt Coleman said, "and we didn't get it done."
"Finishing in all aspects," Coleman said. "The will to win is there. We're playing with heart. It's just execution right now."
All eyes were on the Carolina secondary entering this battle with the Saints and their high-powered vertical passing attack.
With starting cornerbacks James Bradberry and Robert McClain out with injuries, rookies Daryl Worley and Zack Sanchez started with Teddy Williams rotating in. In the second half, Williams replaced Worley, who left the game with a concussion.
Quarterback Drew Brees and head coach Sean Payton did their best to exploit favorable matchups in coverage, and Brees did just that, finishing 34-of-49 for 465 yards and four touchdowns.
"They did exploit some of our young guys out there," head coach Ron Rivera said. "You're talking about a future Hall of Famer playing quarterback and a very good game-planner in Sean Payton."
Sanchez bit on a double move in the first quarter, allowing speedster Brandin Cooks to get behind everyone for an 87-yard touchdown in the first quarter.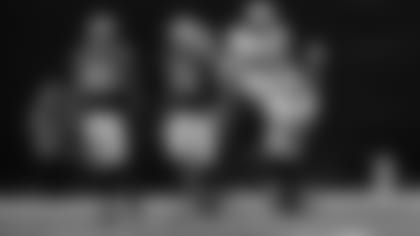 "We came in knowing they like to get big chunks, make big plays," Sanchez said. "We've got to be smarter."
In the third quarter, a mix-up from the Saints' receivers worked in their favor, as tight end Coby Fleener was essentially untouched on a 50-yard touchdown down the middle.
Mistakes made in the secondary are always the most glaring, but again, Rivera harped on the defense struggling to generate adequate pressure up front. Brees was sacked just once, and it didn't come until the fourth quarter.
"Part of it is needing a little bit more from the coverage and part of it is a little more from the rush," Rivera explained. "There are some things we've got continue to get better at and become a little bit more in sync with one another.
"We can't let the quarterback move around and find guys downfield. And we can't let guys get behind us."
Rivera expected growing pains with this young secondary. The mistakes have been costly, and this team is hurting at 1-5.
But Rivera believes the young defensive backs will be better from it. They can't be afraid to fail. They have to learn from the good, the bad and everything in between as the defense works to re-establish itself.
"The young guys battled and fought, and these guys are going to get some experience," Rivera said. "We're going to take our lumps, but once we get to point where these guys have gained the experience they need, we're going to get better. And when we get better I really think we're going to play the kind of football we're capable of."
View game action photos from Carolina's 41-38 loss to New Orleans.