CHARLOTTE – Do you think the Panthers will draft a linebacker in the first round?
If you asked linebackers coach Al Holcomb that question prior to the NFL Scouting Combine, his answer would have been, "Not likely."
But after the combine, the chances got increasingly more likely as Washington linebacker Shaq Thompson emerged as a target.
Fast forward to April 30 – Day One of the NFL Draft. The Panthers have submitted their choice for the 25th overall selection in the first round, and Holcomb is staring anxiously at the television in the team's draft room.
Davis, the NFL Man of the Year and a team captain, took the stage to announce it to the world.
"With the 25th pick in the 2015 NFL Draft," Davis said, "the Carolina Panthers select Shaq Thompson, linebacker, Washington."
Holcomb smiled and nodded, struggling to stand still. You could see the excitement in his face.
"I love the guys that I coach," Holcomb said, recalling the moment. "And part of my reaction was seeing Thomas announce the pick. It's just my love for those guys and the relationship that we have. I was thinking about how special those three guys (Luke, Thomas and Shaq) could be together, seeing Thomas up there and then actually getting a linebacker in the first round. All of that was going through my mind."
How did Carolina arrive at Thompson with the 25th pick? It was a long process that involved many people, but Holcomb was a central figure. He evaluated Thompson at the combine, during a pre-draft visit at Bank of America Stadium and during a private workout at the University of Washington.
Holcomb first met Thompson during a one-on-one interview at the combine in Indianapolis in February. It was brief – 15 minutes are allotted for each player interview.
Eager to learn more, the Panthers brought Thompson to Charlotte on March 17.
"When we bring a prospect in-house, we are cross-checking the things we already know. Kind of dotting the I's and crossing the T's," Holcomb said. "But we're also trying to get to know the player a little better and see how he fits in our environment.
"What's his demeanor? And it gives everyone in the building an opportunity to shake hands and pass the eyeball test."
The visit includes a lot more than eyeball tests. Thompson's football IQ was tested thoroughly.
After taking care of the meet-and-greets, Thompson attended a defensive staff meeting, where the coaches were watching cut-ups of the Carolina defense from last season. Thompson then spent time in the classroom with Holcomb, and later, defensive coordinator Sean McDermott.
"It involves watching our defense on video, it involves him making some calls, it involves a little (written) test to see how much he can retain," Holcomb explained. "How much can he regurgitate and what kind of questions is he asking?"
The objective of this pre-draft visit was to get a sense of Thompson's personality and his football knowledge. How did he do?
"He's an A-plus," Holcomb said. "He has the right demeanor. He's hungry. Someone who can be counted on, someone you can trust."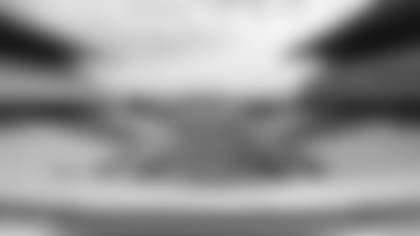 Holcomb flew to Seattle for a private work out with Thompson on April 14. As the guest, Holcomb asked that Thompson make sure a few things were in order before he arrived – another test of sorts.
Thompson was asked to double check with the UW staff to make sure someone would be available to tape the workout. He also needed to ensure there would be equipment available for them to use on the field.
And there was one more request from Holcomb: Top Pot doughnuts.
When the Panthers traveled to Seattle to play the Seahawks in last season's NFC Divisional Playoff, the rookies brought Top Pot doughnuts to the team hotel. Holcomb was a fan.
"So I told Shaq to get me a Top Pot when I get out there. I showed up at the school and of course he walked in with the doughnuts. He came through," Holcomb laughed. "I said, 'This guy is going to be great.'"
The true highlight of Holcomb's day, however, came once Thompson took the field.
After a morning film session where Thompson explained the concepts of the UW defense, Holcomb put the linebacker through a series of drills at Husky Stadium.
"I'm looking at how he takes coaching and instruction," Holcomb said. "I look at hand-eye coordination, ball skills, how he moves his feet, how he flips his hips, how he tracks the ball, how he diagnoses – as much information as I can get."
One moment in particular gave Holcomb all the information he really needed, and it was the first thing he told director of college scouting Don Gregory when he returned to Charlotte.
"When Shaq stands in front of you and he moves when you are in close proximity, you can feel how explosive he is," Holcomb said. "At that point, I said to myself, 'Wow, this guy is special.'
"He can do all the things that we are going to ask him to do. He has great burst, he's smart, he can change direction on a dime. When I saw that face to face, I just said, 'Wow.'"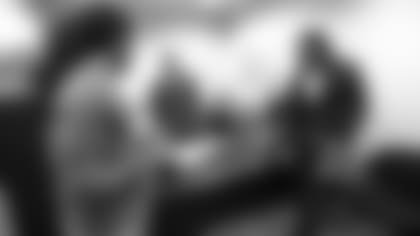 Thompson chats with linebackers coach Al Holcomb and safety Tre Boston in Holcomb's office after his introductory press conference.
When head coach Ron Rivera called Thompson on draft night to deliver the good news, the newest Panther had a message for Holcomb.
"Tell Coach Holcomb I got his Top Pots ready."
He knows how to make his position coach happy, and in more ways than doughnut deliveries. Thompson is a special athlete, a playmaker who can deliver crushing blows and cover athletes in space.
But there is much to learn as he transitions from the Pac-12 to the NFL.
"He has to learn our system and our language first. When he learns how to line up and he can do it efficiently, then he can focus more on playing with technique," Holcomb said. "He has to understand what his 1/11th in our defense is before he can execute anything.
"Once he learns that, he needs to adapt his skills to the style of the NFL game. Every year, college offenses are going more and more horizontal. The NFL does it, too, but the NFL is also a vertical game and a downhill run type game. We need to get him accustomed to seeing those concepts."
When asked where he needs to improve at his introductory press conference, Thompson said "shedding blocks." That didn't surprise Holcomb.
"When I go to the combine, 90 percent of the guys I talk to, that's their answer," Holcomb said. "Shedding blocks and using my hands. In college if they are really good and really fast, they can just beat a guy to the spot and make a play. You can't fault them for that, and it happens in the NFL.
"But we are going up against 330-pound offensive guards and tackles, and we have to be able to use our hands in order to survive and have a chance for a stalemate or to win that battle."
Some analysts have suggested this could be a problem for Thompson, who is listed at 6-foot and 228 pounds. Holcomb doesn't see it that way.
"I don't see there being any problem with him using his hands more consistently. It's something that needs to be drilled," Holcomb said. "People associate a bigger player with being more capable of getting off blocks. That's not always the case. The arm length is critical for me."
And Thompson has ideal arm length – 33 inches to be exact.
Some look at Thompson's height and weight and say he doesn't have the physical traits to shed blocks. In reality, he has a physical trait that makes him more apt to shed blocks once he develops the proper technique.
"Guys with long arms can extend and create separation between them and the offensive player," Holcomb said. "Shaq's got the arm length of someone that is 6-4. I'll take that any day of the week."
The Panthers will plug Thompson in as an outside linebacker opposite Davis and let him learn and develop. And with his athletic gifts, Holcomb is as excited as anyone to see how it all comes together.
"It's not too big for him," Holcomb said. "There's a learning curve transitioning to the pro game, and he's got to take it up another notch. But he's still ascending as a player. He can be something special."