(EDITOR'S NOTE: This is the first installment in an ongoing series detailing how the Carolina Panthers' college scouting staff goes about its year-long process of evaluating future prospects for the franchise).
The NFL season has started, and the latest college football campaign is underway as well.
But that magical time of the year when the two collide, during the NFL Draft, seems far, far in the distance.
That isn't the case for Don Gregory, the Panthers' director of college scouting, and his staff that totals eight college scouts. Their Super Bowl of sorts may be in April every year, but that doesn't mean they lie around idle until a couple of months before the next draft rolls around.
They already are dispersed throughout the country, looking far and wide for next year's crop of rookies. The process, in fact, starts in May – just a few weeks after the draft wraps up each year – when Gregory, assistant director of college scouting Ryan Cowden and senior college scout Jeff Morrow head to Florida for a meeting with the national BLESTO Scouting Service.
"They generate our first list of potential players for the whole year, through all the (11) areas," Gregory said, noting that Panthers scout Eli Montague generates the Rocky Mountains list as Carolina's BLESTO representative.
"That's the first list that we get for the upcoming seniors. Once we get that list, we can start looking at where the prospects are heavy or light. Are there more corners? More tackles? More defensive ends? Or are there less running backs, less quarterbacks? That's the first list that we look at, and we start to set ur schedule based off that list."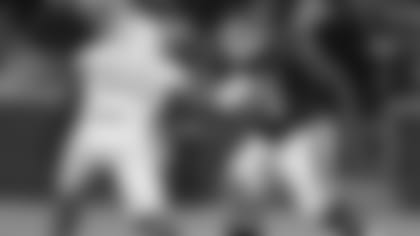 John Peterson, a veteran scout now in his eighth season with the Panthers who covers Texas, Oklahoma, Kansas, Nebraska, Colorado, Wyoming and parts of Arkansas and Missouri, says of the BLESTO sheets detailing prospects by position: "We call them our Bible lists."
But it's only a start. From there, the real work begins for the Carolina staff.
From the initial BLESTO list, it's time to start compiling their own lists of players they'll want to see during a college season that is still five months away.
"The draft has only been over about three weeks when we start setting the list and getting it out to the five area scouts," Gregory said.
"From that list, they look at their prospects. They do some summer tape on those guys -- especially guys from the smaller, bubble-type schools, where maybe they're a lower-rated prospect, to see if that prospect is really worth going to see or can you just do tape work on them. But they do summer tape on all the players like that and also some on the prospects from the major schools in their areas."
Gregory, meanwhile, is hard at work setting his own master schedule of sorts.
"I set my schedule based on the top 100 to 150 prospects in the country," he said. "And I also include the juniors. Because each year, there are usually going to be a lot of top prospects included in that junior class. If you don't allow yourself to see them in the fall – since there is no junior all-star game – the next time you'll see juniors once they declare (for the draft) in January is at the Combine."
Of the prospects who are juniors, Gregory added: "You want to be able to see them in a game, practice or go to a bowl game in December. Technically, you are not evaluating them. But you're getting a bird's-eye view on them just in case they declare."
"And I think last year, a total of maybe 58 juniors came out. So that's another list that we compile and look at as prospects."
The process of setting schedules isn't easy for Gregory, Crowden, Morrow and their cadre of area scouts. Peterson, for instance, said it is an intricate deal that must include getting with colleges in specific regions and "identifying the schedules of August training camps, dates and times of (in-season) practices…And when we can do film."
Different schools have different restrictions on all of that and those must be taken into account, Peterson said. By this time on the calendar, it's late July and time to roll into Panthers' training camp in Spartanburg, S.C. The scouts all meet together there, which is a rare ccurrence actually because most of the year they are all spread out in different places throughout the country.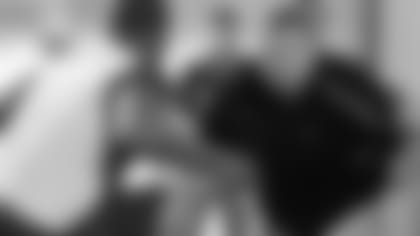 "Once we set our schedules based on all that, we roll into training camp and talk about where we're all going, where our coverage is heavy and where maybe it's a little light," Gregory said. "So we make sure we have a blanket covered across the country."
By the time they disperse from training camp, it's time to start hitting the road again.
Gregory said a typical week for him and his scouts during a collegiate season begins with flying on Monday, being at a school by 7:00 a.m. Tuesday and spending the whole day there – first by watching film, then by doing background work on prospects, then by attending practice – and then heading to the airport to fly to the next school where prospects on their lists await. Then it's rinse and repeat every Wednesday and Thursday. Friday is typically used as a day to fly to the location of a college game they'll watch Saturday.
All the while, Gregory will not only be looking at the top draft prospects but also cross-checking some of the lower-rated players who already have been scouted to one degree or another by one of the staff's other talent evaluators.
"Probably the first month, it's a hard schedule," Gregory said of his own personal grind, which has him on the road up to 70 nights from August through the end of the college bowl season.
"Then from there it's a soft schedule, where I might be getting ready to go somewhere and one of the area scouts will say, 'Don, this guy really is not worth you going in to see, because he's a lower-rated guy – and your time could be better served by going over here instead.' "So if I was going into Arizona and we had eliminated a guy because he wasn't as good as the 53rd player on our roster, then they'll probably call me off. But then they might say, 'But there's a guy over in Utah who is under-graded. He's got some measurable and some things that might fit us.' So I'll make that change in my schedule and go into Utah instead of Arizona."
Learning to catch up on compiling scouting reports while on planes and in hotels during virtually every spare moment is vital, Gregory added.
"You do it at night. You've got the midnight lamps burning, and you're cranking away," Gregory said.
"Any free time you have on the airplane, you're typing your reports -- just to stay up on it, because you can get overwhelmed if you get behind. You're basically typing every waking hour you have just to make sure you stay up on your reports."
NEXT IN THE SERIES: A closer look at the background and philosophy of Don Gregory, the Panthers' director of college scouting.