National Football League prospects still playing in college, beware.
In fact, anyone who thinks they may want to play in the NFL someday, take note. You might have the talent to do so, which is rare enough, but that's only part of what the scouting staffs of teams such as the Panthers will be scrutinizing.
In this day and age of exploding social media, where seemingly everyone wants to put everything out there on social media platforms like Twitter and Facebook, background checks on prospects have never been more important or more involved.
And with the amount of time and money that is invested in each pick, you can be sure that the Panthers want to be as sure as possible that they're getting the right kind of guy every time they make a selection in the NFL draft.
"The process is so involved, you can't get enough information on players," said Don Gregory, Carolina's director of college scouting. "And it can go right up to draft day. A guy could get eliminated a week before the draft, because things that maybe happened over the winter you're getting more and more information on. It's almost like putting together a puzzle. You've got the heads and the arms and the legs, and this is finally what it looks like. Well, part of that puzzle and that profile is his background."
"Does he fit what we want as a player? Does he fit in Charlotte? Does he fit with our coaching staff? So there's a lot involved. It's not just his skill set. It's his fit and what we're looking for in a smaller market in Charlotte. A guy might get drafted in Dallas or New York – a bigger market and a bigger city – and that type of person might not fit in Charlotte."
To help with the background checks, the Panthers rely not only the traditional scouting methods that are still used, but by using special software programs that help them track all social media used by prospects. All they need to get started is a player's name and/or "handle" on such forms of social media as Twitter, which are public information.
The Panthers use more than one form of such software to gather as much information as possible on prospects.
"Once you put it in the data base, it will constantly run it. It is constantly checking to see if there is something that is a red flag," said Brandon Beane, Carolina's assistant general manager. "Then you go on there and click on anything that's been red-flagged – anything about drugs, money, drinking, partying. Or you can see if a guy is tweeting from 1 a.m. to 6 a.m. Is the guy out there running the streets at 3 a.m., sending Tweets out there?"
Beane said the Panthers used one form of software to assist in background checks prior to last year's draft, and will add another, more sophisticated one, while preparing for this year's draft.
"We'll use both. We're not tied to using just one, and it's all about gathering as much information on a prospect as we can," Beane said.
Sometimes, the information that is returned to the team is rather shocking. Beane said the Panthers have tested the software on current NFL players as well, which obviously helps when it comes to considering signing free agents.
"It's amazing what some of the guys out there do," Beane said. "There are some NFL guys that we've seen doing stuff that we've flagged. It's not even a player that's on our team. But if we see it out there – for instance, there is a running back for a certain team that's out there, and I'm not going to name him, but he had pictures with guys there doing gang symbols, money in the room, and openly smoking weed. Just crazy. So we instantly put a flag on a guy like that, saying that's not a guy we want.
"If we see the same thing in college, obviously it's the same thing."
Gregory said while the process is involved and the ultimate decisions that must be made often are difficult, in the end what must be answered most is a simple question. Will a prospect make team owner Jerry Richardson and the city of Charlotte proud in the long run?
"We're looking for someone who is going to represent us and who is going to represent the city in the way that we want," Gregory said. "We call it 'the turd factor.' We want to eliminate the turd factor on these players, so that they fit when they walk into the building and when they're walking downtown in Charlotte they're representing the Carolina Panthers and Mr. Richardson in the way we want."
Beane added: "Mr. Richardson has always been about getting high-character guys. In the past, if a guy had not been arrested or didn't have something on record, it was all hearsay. You were asking a coach or someone at that player's school. You're still doing that, you're still talking to coaches and people that this kid has been around, maybe all the way back to high school. But now, with social media, a lot of these kids just can't help themselves. You can look into their lives more and follow them much more closely – some for the good, but some, amazingly for all the warnings out there, just can't help themselves."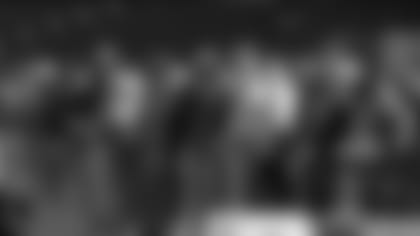 Scouring the social-media accounts of prospects has become, in a way, almost as important or maybe even more important than grinding through all the game tape to make sure a kid can play.
"You spend a lot of hours, obviously, looking at tape in itself to see what a guy can do on the field," Beane said. "But now you probably spend more hours checking into his background. Because the value of seven picks in the draft in this league is huge. It's still an inexact science in a lot of forms, but you've got to hit for a high percentage. If you don't, over time your team is not going to have the depth or the quality of players that you want.
"There is no way of proven success other than drafting well. You can hit on a certain free agent here and there, but there really is no team that has nailed it free agency-wise – because at the end of the day, you're playing premium dollar in free agency. So you can't miss on these draft picks. The value is huge."
The Panthers have drafted well in recent years, obviously. But none of their picks speak more to their process of identifying talent and also solid citizens than the two proven leaders on the current roster – quarterback Cam Newton, who was the No. 1 overall draft pick in 2011, and linebacker Luke Kuechly, chosen No. 9 overall in 2012.
"It's gratifying for everybody, because we're all in it together: the scouts, the coaches, the front office," Gregory said. "We have a great coaching staff. It's our job on the scouting staff to try to bring in the kinds of payers who are the right fit – where not only are they gifted athletes, but they're gifted people. Then you see the whole picture coming together.
"Obviously we're in the whole entertainment business where winning is important. So when you start to see these guys produce on the field and we're winning, that's what is most gratifying. Obviously that makes Mr. Richardson and the whole city proud. It's like a big family. Once you start winning, everybody's on the bandwagon – and that's what is most gratifying."
At the same time, the next draft always looms right around the corner. So the work of using all available resources to find great players and great people never really ends. Beane said the Panther must always remain diligent to make sure they get both and don't compromise one for the other.
"You can't rest on your laurels," Beane said. "And you can get in these little quandaries at draft time, where you'll say, 'Man, this kid is really talented. Let's look into it more.' But you've got to stick to your guns. There are some guys that we've taken off our board, and we've followed them. And some guys, after a year or two, they'll revert right back to what they were in college at some points, once they get comfortable. So you've got to stick to your guns and if you see issues with them, character flaws, you avoid them."
Take a look back at current Panthers players in action at the NFL Scouting Combine.