In any NFL draft, teams know it's essential to make certain they don't miss on first-round picks.
But the early years of the Panthers proved that hitting on key second-rounders can provide a young NFL franchise with cornerstones on which to build a strong future. Carolina selected three of the best players in team history in the second round of drafts in 1996, 1997 and 1999 when they took wide receiver Muhsin Muhammad, safety Mike Minter and defensive end Mike Rucker.
Never was the importance of scoring with a second-rounder more evident than in 1996 with Muhammad, chosen 43rd overall from Michigan State.
Muhammad hardly was considered a lock by the so-called experts heading into the draft. In fact, there were some seemingly legitimate questions about him. Scouts noted that he had good size at 6-foot-2, 220 pounds but wasn't considered the fastest, and some questioned his route running.
Plus in college, Muhammad was basically a non-entity before enjoying a breakout season as a senior. In his first three years, he posted only 19 receptions for 273 yards and two touchdowns. Then in his final season he racked up 50 catches for 867 yards and three touchdowns, placing him on not only the Panthers' radar but on the draft boards of all NFL teams.
The Panthers were especially high on him, said Bill Polian, the team's general manager at the time and now an NFL analyst for ESPN.
"There really weren't any questions about him as far as we were concerned. He had really good hands, he had great acceleration," Polian said. "He was a better route runner than people gave him credit for. And he was really physical and tough."
Current Panthers general manager Dave Gettleman wasn't around Carolina for the team's drafting of Muhammad in 1996, but he has a very good idea of how the evaluation process went.
Like Polian, who gave Gettleman his start in the NFL as an intern and then a scout with the Buffalo Bills in the mid-1980s, Gettleman learned the game of evaluating a draft at the feet of veteran football men. He said one veteran scout taught him early on the valuable difference between a timed speed in the 40-yard dash and what the talent evaluators call "play speed."
"I'm a big believer in that," Gettleman said. "To me, the 40-yard (dash time) is an indicator. It's not something you just grasp onto and come hell or high water, that's what you're going to focus on. The best story about that is, of course, Jerry Rice."
Rice, who would go on to become the most productive wide receiver in NFL history, was not the first wide receiver chosen in the 1985 draft. With doubts about his speed and the level of competition he faced in college at Mississippi Valley State, Rice was the third wide receiver selected in the first round (16th overall) behind Al Toon to the New York Jets and Eddie Brown to the Cincinnati Bengals.
"Jerry Rice on his best day, downhill, on roller skates, was a 4.6 (in the 40-yard dash)," Gettleman said. "Now did any of us ever see Jerry Rice get caught from behind? No, because he played a lot faster than 4.6."
Gettleman also recalled Hall of Fame wide receiver Andre Reed, who lasted until the fourth round before the Bills took him with the 86th overall pick in the same 1985 draft that included Rice.
"Andre Reed was a 4.53, 4.54, 4.55 guy. But he'd get the ball on his gloves and he'd be gone."
Those players seemed to have holes in their games when scouts crunched the usual numbers. But the smartest NFL talent evaluators find ways to see past the usual numbers, and such was the case with the Panthers and Muhammad. When scouts told Polian that Muhammad lacked speed, it didn't seem to match up with what Polian saw on tape. So he arranged to see for himself in a private workout with Muhammad at Michigan State.
"The scouting reports were that he didn't have top-end speed. So we went up and worked him out, and I think in the indoor facility at Michigan State he ran in the 4.4s," Polian said. "Joe Pendry, who was our offensive coordinator at the time, and I just kind of looked at each other and said, 'Uh-huh.'"
Many teams never saw past the perception that Muhammad might not be fast enough or whatever else they deemed to be his deficiencies.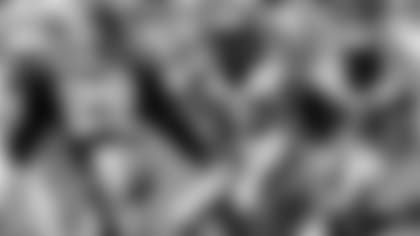 But in real time Muhammad moved plenty fast enough to Polian, and he was physical enough to take balls away from smaller defensive backs and able to block whomever he needed to on run plays. The tape also offered strong evidence that Muhammad took pride in his blocking. He not only was good at it and big enough to do it well, but he seemed to enjoy it much more than most other wide receivers.
"Ironically, we talked to (Michigan State head coach) Nick Saban about him after the workout. And we said, 'Wow, this guy is an incredible athlete and he's physical and he's tough. Is there anything wrong with him? Are we missing something?'" Polian said chuckling.
"And he said, kind of ruefully, 'Nah. But I probably should have made him a safety.' Which tells you all you need to know about Nick Saban. The old defensive coach in him came out."
The Panthers ended up taking Muhammad after some anxious moments on draft day, and they did not regret it.
"In any event, we were sold on him," Polian said. "We were pretty sure he would get to us, but we weren't certain of it and actually thought about trading up to make sure we got him. Fortunately, he did get to us. (Panthers director of player personnel) Dom Anile did a great job setting the (draft) board up, and he did get to us. And then of course he went on to have a phenomenal career with Carolina."
One of the six wide receivers drafted before Muhammad in 1996 was Keyshawn Johnson, selected first overall by the New York Jets. Johnson, who finished his career with the Panthers in 2006, went on to total 814 receptions for 10,571 yards and 64 touchdowns. Muhammad produced similar career numbers, including more catches and yards than Johnson with 860 receptions for 11,438 yards and 62 touchdowns. Muhammad, who played for Carolina from 1996-2004 and 2008-09 before retiring, ranks second in team history in catches, receiving yards and receiving touchdowns behind Steve Smith.
As far as the draft goes, Muhammad was without a doubt a solid second-round score who went on to become a cornerstone of the Panthers' early teams.
And those scouts who thought Muhammad might be too slow to make it in the NFL? Polian laughs aloud when he thinks of seeing the big receiver run in that workout at Michigan State.
"Oh, he ran great. The fact that he was so big, I think, fooled people into thinking he wasn't as fast as he was," Polian said. "But when he got to the NFL, you could tell that the explosion you saw in the workout and on tape was accurate."