SPARTANBURG, S.C. – The Panthers secondary is making no excuses for its struggles a season ago.
Carolina allowed the most yards per pass attempt in the league (8.4), and safety Charles Godfrey says it's a problem that he and his teammates are determined to correct.
"We're taking the right steps," Godfrey said. "We admitted that we didn't do well. We owned up to that. We corrected what we needed to correct and we're fixing it.
"We will be better. We will hold up this year."
Cornerback Chris Gamble believes that's a must if the Panthers are to make any significant improvement defensively.
"It starts with us in the secondary," Gamble said.
And growth for that entire unit begins with competition.
"(Coach Ron Rivera) says, 'Don't count your reps, make your reps count,'" explained safety Sherrod Martin. "Everybody is trying to make plays."
---
Gamble, an eight-year veteran, is entrenched as one of the starting corners, and Captain Munnerlyn has worked as the other first-team corner in training camp thus far. But a host of other corners are battling for playing time.
The competitiveness extends to the safety position as well.
Godfrey and Martin started last year, but former Baltimore Raven Haruki Nakamura and former San Francisco 49er Reggie Smith were brought in as challengers.
"We feel like both of those guys have what it takes," head coach Ron Rivera said. "They've both performed very well for us."
Nakamura is getting his chance to impress in his first season in Carolina after spending his first four years in Baltimore, playing behind star safety Ed Reed.
"Having the opportunity to step in and compete for a spot does bring a different element," Nakamura said. "I'm definitely very focused. At the same time, I'm going to be the best teammate I can possibly be. I'm going to let the competition play out."
Nakamura has worked with both Martin and Godfrey in camp, but Godfrey has established himself as the likely starter at strong safety. That leaves Martin and Nakamura to compete for the free safety job through camp and into the preseason.
"We're pushing each other really well – exactly what the coaches wanted." Nakamura said. "I'm sure that's what (general manager) Marty (Hurney) wanted when I came here. This is only going to improve the football team.
"This isn't just about me, it's not about Sherrod or Charles," he added. "It's about seeing what kind of competitive nature it takes to win games."
---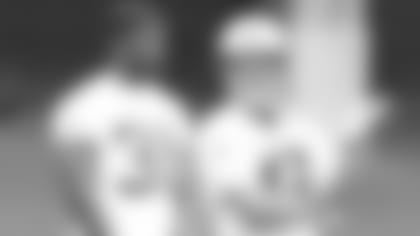 Nakamura knows what it takes to win games in this league. In his four years in Baltimore, he never missed the playoffs.
And he knows good defense when he sees it. As a Raven, he was part of a defense that's perennially considered one of the league's best.
In Carolina he's joined a defense that's eager to prove its mettle. And he believes it has the ability to make that happen.
"The one thing I noticed is how fast and athletic this defense is. The front seven is extremely fast, very physical. (Defensive coordinator) Sean McDermott has got some really good stuff going on over here.
"It's a very young team, and I can bring a little bit of experience having been in the playoffs, knowing what it takes to get there," Nakamura said. "This team is athletic enough to take it to the top. This team is ready to win."