CHARLOTTE – It's a story that's played out countless times before.
Only this one has a happy ending.
At most only a handful of prospects were coveted above Russell Shepard coming out of high school in 2009, with Shepard standing beside Matt Barkley as the top quarterbacks in the recruiting class. But before Shepard's freshman year ended, he was barely playing quarterback, and as his junior year progressed, he was barely playing at all.
"My last year at LSU, I caught six balls," said Shepard, a wide receiver/special teams standout. "Now I'm going into Year Five."
That's Year Five in the NFL, a year that finds him joining up with the Carolina Panthers following four seasons with the NFC South rival Buccaneers. Shepard specifically is excited about joining forces with the coach he holds most responsible for his football career extending beyond college.
"That man right there," Shepard said, referring to Panthers special teams coach Thomas McGaughey, "he created a niche for me and an opportunity to provide for my family.
"I really appreciate him."
"I'm excited about him being a part of the Panthers organization," McGaughey said. "I look forward to coaching him and him bringing great leadership and passion to our room."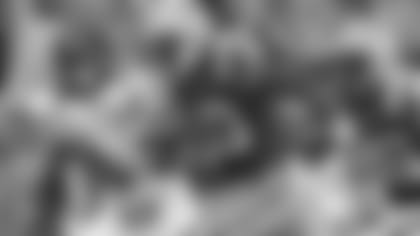 When McGaughey arrived at LSU in 2011 to take over as special teams coordinator, he connected some pretty crazy dots.
A proud native of Houston who kept tabs on high school football in his hometown even while serving as assistant special teams coach for the New York Giants, McGaughey took notice of a high school kid making headlines in Houston. McGaughey even called him to encourage him to keep up the good work.
Once at LSU, McGaughey ran into a woman he went to middle school and high school with and asked her what she was doing there. She said she was there to see her baby.
The dots connected. It was Shepard's mother, and her son was the Houston headline maker.
"I realized, I remember when Russell was born," McGaughey said. "I want the very best for Russell and his family."
But things weren't in the very best place for Shepard when McGaughey arrived.
"Coming into school, I was one of the top-rated guys, but I'm the famous guy who got benched by Odell Beckham," Shepard said. "I was having a hard time touching the field."
Shepard moved from quarterback to wide receiver as a sophomore while also playing some running back, usually starting when the Tigers opened in three-receiver sets alongside future NFL receiver Rueben Randle and NFL journeyman Terrence Tolliver. But come Shepard's junior year, two more receivers joined the mix – Beckham and Jarvis Landry.
"There were a ton of guys in that room he was competing with on a daily basis, plus he was new to the position," McGaughey said. "He wanted to find a niche where he could get on the field and play. He came into my office and I told him, 'I just left a guy in New York by the name of David Tyree. He's played a long time in the NFL and probably made one of the greatest plays in the history of the NFL (his side-of-helmet Super Bowl catch). And the only reason he got that opportunity was because he's a great special teams player.'
"Russell bought in, and I started using him on everything. He was competing and fighting, and he started to embrace it. From there, it was a natural progression."
It progressed to the point, in fact, where McGaughey had no doubt that despite Shepard's nearly nonexistent role on offense as a senior, Beckham and Landry weren't the only receivers on the LSU roster with an NFL future.
"I had just been in the league, and there were guys on the team I was coaching for four or five years that Russell was better than at that time," McGaughey said. "So I knew for a fact that he was going to get a shot, and that's all he needed – a shot."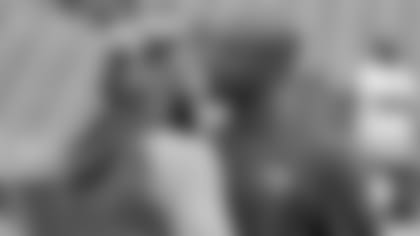 The Eagles provided the initial shot, signing Shepard as an undrafted free agent shortly after the 2013 NFL Draft. He didn't survive the final cut but made enough of a splash that the Buccaneers claimed him off waivers. There he remained for four seasons, serving as special teams captain each of the past two years while also taking advantage of an extended opportunity at wide receiver this past season, when he caught 23 passes for 341 yards and two touchdowns. He caught at least one pass in 11 games after doing so just six times over his first three seasons.
What will his role with the Panthers be?
"Football player. I'll be one of the best football players for this team," he said. "I'm the guy that's going to score a touchdown for you and still cover the kick. I'm a guy that's going to uplift a teammate through hard times."
McGaughey loves Shepard's athletic ability and his intangibles, but given McGaughey's role on the coaching staff he chose to not share any thoughts about what kind of receiver Shepard might be. But as far as Shepard as a special teamer and a special presence in the locker room, McGaughey couldn't think more highly of a guy.
"He's a special player who brings juice to your unit," McGaughey said. "You have to double Russell as a gunner because if you don't, he's going to make every tackle. Running down on kickoffs, you better have a plan, too, because he's going to make the tackle. He's very savvy, a slippery guy who can slide in behind blocks or play over the top. He uses his hands very well. He's physical at the point. He does a lot of things very, very well.
"More than anything, Russell will bring leadership, energy, passion and production whenever we need it. He's a driven young man, and he plays the game with a chip on his shoulder. I just expect Russell to be Russell – the same guy he was at Tampa, the same guy he was at LSU. A very competitive guy who plays with passion."
Look back at photos of wide receiver Russell Shepard during his professional and college career.