Question and answer with Troy cornerback Sherrod Martin, the Panthers' second of two second-round draft choices (59th overall).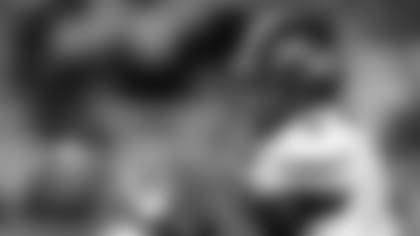 On being picked by the Panthers: I'm speechless. I'm just taking everything in and am ready to get in and go to work.
On the adjustment of moving to cornerback after playing most of his career at safety: Coming in and making sure that I'm able to transition from college to the pros. Coming in and working hard and going from there.
On what kind of player he is: I'm a versatile guy, very active. A playmaker, always around the ball. A smart guy, knows what's going on around the field. As far as what a team tries to do with the defense, I understand the defense, so I know what we're trying to get done and what we're trying to accomplish. Basically, I'm just a player that is going to give it his all, and they are going to get a hard-(working) ballplayer.
On who he models his game after: All players are different. There are some good players. Guys that I look at, that I try to see what they do good, and I just basically steal a piece of another person's game and add it to my game. I look at guys from Ed Reed to (Troy) Polamalu.
On what cornerbacks he likes: Antonio Cromartie. The Panthers have some good corners - Chris Gamble and (Richard) Marshall. For the most part, I don't too much try to be like somebody. But whatever they do good, I may see what works that I like and steal a piece of their game and add it on to my own style of play.
On if teams talked to him prior to the draft about moving to cornerback from safety: They talked about me (playing) anywhere from corner to safety to nickel back to dime back. They liked the best thing about me - I'm a versatile guy and I'm athletic enough to be whatever they need me.
On what position he played at the Senior Bowl: I did play all cornerback. That was really my experience at cornerback - the Senior Bowl. It started out pretty rough at first. What I mean by rough, I didn't feel like I was at my full potential, showing how good I could play. But each day I got better and better and improved and I was showing that I was fast learner and able to progress.