SPARTANBURG, S.C. – As soon as the horn sounded bringing Saturday's practice to a close, fans in attendance responded with a hearty round of applause.
Rightfully so, for they had just witnessed as entertaining a practice as you'll see.
"Very spirited practice," head coach Ron Rivera said. "Very, very spirited. It was a lot of fun to watch."
The spirited nature came as a result of short-yardage and goal line drills, where neither side was willing to give an inch.
The offense had the upper hand in the first few goal line segments, with fullback Mike Tolbert plunging into the end zone and tight ends Richie Brockel and Mike McNeill hauling in touchdowns off play-action.
But later, when the offense moved to within the 5-yard line, the defense stood its ground.
Offensive tackle Byron Bell and linebacker Thomas Davis began jawing at one another, with Bell shouting where the offense planned to run the ball.
Davis and his defensive teammates responded by stopping Tolbert short of the goal line. Then, on fourth-and-goal, linebacker Luke Kuechly shot through a gap on the left side and stoned Tolbert in the backfield.
The defense – and the crowd – went nuts.
"I think that was the most fun we've had at practice all camp," Kuechly said. "It starts when guys start getting competitive and talking. It raises the level of practice and makes it that much more fun."
Stopping Tolbert in the backfield was especially gratifying for Kuechly, who remembered when the bruising back ran over him in the Pro Bowl.
Said Tolbert: "Luke came up to me and was like, 'Hey, I think I got you back.'"
Kuechly's goal line stand was the highlight of the day, but rookie wide receiver Kelvin Benjamin provided some other standout plays in his first practice since bruising his knee six days earlier.
"I felt great," Benjamin said.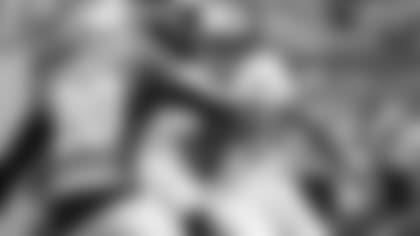 In the first team drill of the day, quarterback Cam Newton floated a deep ball down the sideline to Benjamin, who leaped over cornerback Melvin White to secure the reception.
Benjamin later reeled in catches on short and intermediate routes, picking up right where he left off before his injury.
"He's very confident, very comfortable in who he is," Rivera said. "You wonder, because he's so young, but then he gets out here and everything he's hearing, everything he's seeing, everything he's writing down is being transferred right onto the field. He's comfortable with what we do."
After practice, Rivera made sure to let his players know how pleased he was with the way they competed.
"There was a lot of effort today – the type that you need," Rivera said. "We as a coaching staff have to make sure we build off of this."
HEALTH UPDATES: Defensive end Greg Hardy missed practice with a shoulder contusion. Rivera isn't sure how long that will keep Hardy sidelined. Fellow defensive end Charles Johnson was taken out of practice after experiencing hamstring tightness.
Safety Roman Harper, cornerback Charles Godfrey, running back Kenjon Barner and offensive lineman Garry Williams did not participate.
Defensive backs Thomas DeCoud (knee), Josh Norman (hamstring) and Josh Thomas (back) returned to practice.