CHARLOTTE – It was a new week and the same disappointment for offensive coordinator Mike Shula as he discussed the Panthers' 24-23 defeat to Buffalo.
"Just heartbreaking again," Shula said. "In my opinion, we don't deserve to be 0-2. We just have to keep grinding away."
Shula revisited the Panthers' fourth quarter possession that began with 7:13 remaining and the Panthers leading 20-17. Prior to kicking a 39-yard field goal, Carolina ran 11 plays and took 5:29 off the clock.
"We were running the ball beautifully on that drive," Shula said.
The series started with a 15-yard play-action pass to tight end Greg Olsen, who was completely uncovered in the left flat.
The Panthers then ran the ball ten consecutive times. Running back DeAngelo Williams carried it five times for 20 yards, including a seven-yard run where he broke a tackle and alertly stayed in bounds to keep the clock running.
Fullback Mike Tolbert ran the ball four times for 20 yards. His fourth carry came on third-and-five from the Bills 25-yard line, and he gained four yards.
"We went on a great drive – when the world knows you're running and you can run the ball like that," Olsen said. "We just didn't finish it."
On that critical third down, Shula opted to go with a three wide receiver set. Quarterback Cam Newton took the snap out of the shotgun and handed the ball to Tolbert on a misdirection play to the right.
"We'd shown a couple things: a passing formation, and that's a formation that we'd actually run Cam a lot on," Shula said. "It was a misdirection off of that. It was a play that was successful for us earlier in the game, as well as last week. I thought it was going to be our best chance."
Olsen and left guard Amini Silatolu pulled from the left side of the formation to lead the way for Tolbert, who saw a hole and charged through it.
But Bills linebacker Kiko Alonso and defensive end Jerry Hughes cut Olsen and Silatolu respectively, collapsing bodies into the hole.
"You have to give them credit," Shula said. "We had some guys blocking down and some pullers and you don't see this a whole lot, but they actually cut our guys and it kind of wadded things up.
"Just came up one yard short."
Shula was asked if consecutive heartbreaking losses could have a demoralizing effect on the offense, and he strongly stated that wouldn't be the case.
"Maybe in years past, but for whatever reason, this year with this group I don't. I really don't," Shula said. "I know it doesn't make sense right now, because we are 0-2, but guys are really taking ownership, some veteran guys. They've worked hard. You want to see the results. You just keep preaching hard work is going to pay off.
"This is a tough game as we know, and all that gets tested when you don't win. But we can't prepare any different right now for the Giants than we would if we were 2-0."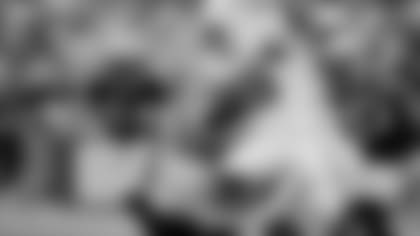 DEFENSE HAS TO MAKE IT WORK: Due to a rash of injuries in the secondary in the second half, defensive coordinator Sean McDermott said he was unable to deploy a nickel defense for "give or take a half of a quarter" before cornerback Josh Norman returned.
At one point, the coaching staff thought about having a linebacker play defensive back.
"We talked at one point about putting Thomas Davis (who played safety in college) back at safety," McDermott said. "That's where we were in the game. Jordan Senn even came over and offered his services on the sideline too. You appreciate their willingness to do that for the team."
"You have to make it work. I thought the guys did a good job with that," McDermott added. "The guys that went out there, they fought hard.
"We've got to find a way to make a play on the last drive."
Starting free safety Charles Godfrey has been placed on injured reserve, strong safety Quintin Mikell's status is in question after an ankle injury, and starting cornerback Josh Thomas must go through concussion protocol.
Not to mention, cornerbacks Josh Norman and D.J. Moore suffered injuries but finished the game against the Bills.
"We'll just have to see who is healthy at this point," McDermott said.
There are a lot of moving parts for McDermott to work with before the New York Giants come to Bank of America Stadium in Week 3.
"The other guys have to step up, and the front seven has to be special," McDermott said. "The great players have to be great every week. We've got to make sure we're sound in the secondary.
"(The Giants) are not going to feel sorry for us."