CHARLOTTE – Last Tuesday, offensive coordinator Mike Shula was finalizing his game plan for the Tampa Bay Buccaneers when he heard the news that his starting quarterback had been in a violent car accident.
Shula's first priority was finding out if Cam Newton was OK. When that news eventually came there was a huge sigh of relief.
But then Shula needed to revisit the game plan now that Derek Anderson would be directing the offense.
"We had to tear a few things up. I would say 30 percent," Shula said. "Most of the (plays) where D.A. would be running the ball."
It was a challenge, but Anderson's talent and 10 years of experience brought a sense of calm to a chaotic situation.
Anderson unsurprisingly played well in Carolina's 19-17 win. He completed 25-of-40 passes for 277 yards and one touchdown to register a 91.4 quarterback rating.
"Derek can be a starter in the NFL," Shula said. "He knows this offense really well. I'm just happy for him. When he's had the chance, he's produced. I know everyone in this building had confidence he would do that."
Shula said Newton was energetic and engaged on the sideline. He reviewed plays with Anderson and offered input.
In fact, when the offense was getting ready to take the field with 3:11 left in the game, Newton suggested a play-action pass. Shula went with it, and wide receiver Kelvin Benjamin made a 12-yard catch on a slant route.
"I was thinking pass but not that pass. I was like, 'Yeah, that sounds better,'" Shula said. "He's got a lot of really good football ideas."
The Panthers remained aggressive on that series. After a 3-yard run by running back Jonathan Stewart, Anderson completed a 10-yard pass to Benjamin, forcing Tampa Bay to use its final timeout.
"It's a fine line," Shula said of risking a potential clock-stopping incompletion. "But those are also the best times (to throw). You have to trust your guys to do it."
---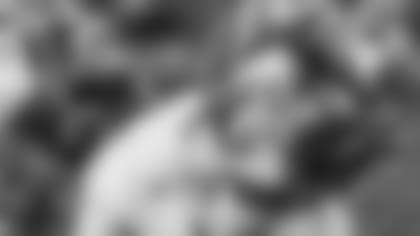 Shula lamented the offense's struggles in the third quarter, but the defense was there to pick them up and put them in position to regain the lead.
"The second half defense, in particular the third quarter defense, the intensity really came up," defensive coordinator Sean McDermott said.
Defensive ends Charles Johnson and Mario Addison combined to sack Buccaneers quarterback Josh McCown on the third play of the second half, forcing a fumble that defensive tackle Kawann Short recovered at the Tampa Bay 4-yard line.
"That got the crowd into it and got the defense going," McDermott said.
The offense converted that takeaway into their lone touchdown – a 2-yard strike to wide receiver Jerricho Cotchery – which gave Carolina a 16-10 lead.
And the defense continued to stifle Tampa Bay. On the first play of the next series, Johnson leveled running back Doug Martin for a 4-yard loss, which led to the first of three consecutive three-and-outs for the Buccaneers.
The defense limited Tampa Bay to just 46 total yards in the pivotal third quarter.
"Really encouraged by the way the defensive line came off the football and the DBs were again breaking on the football," McDermott said. "Two games in a row now in terms of making plays on the ball.
"There's plenty to be proud of but plenty to work on going forward."