CHARLOTTE – Much has been made of the physicality, and at times excessive physicality, that was on display during Carolina's season-opening loss at Denver.
Yes, offensive coordinator Mike Shula saw his MVP quarterback take several vicious hits. But he also saw the entire offensive unit battle for every inch to put the Panthers in position to win in the closing seconds.
"I will say this: Our guys last week, I think that's the hardest I've seen them compete, ever, since I've been here," Shula said. "I told our guys, 'I feel better about our offense now than I did two weeks ago.'
"We came up short, but we have to learn from it and move on. No one is going to feel sorry for us."
One of the major positives from Week 1 was wide receiver Kelvin Benjamin's impactful return to regular season action. Benjamin finished with six catches for 91 yards and touchdown.
But the number of targets is something to monitor. During the lead up to the opener, head coach Ron Rivera talked about how important it is for quarterback Cam Newton to spread the ball around.
"When I get the official stats, the first thing I look at is how many different receivers he targeted," Rivera said.
Benjamin was targeted 12 times and Pro Bowl tight end Greg Olsen, who recorded seven catches for 73 yards, was targeted nine times.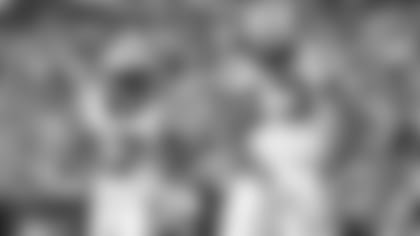 The Benjamin-Olsen duo accounted for 21 of Carolina's 31 targets, but Shula isn't concerned about the top-heavy stat sheet after one game.
"(Cam's) biggest thing is making good decisions," Shula said. "I think it's a totally different feel than it was two years ago – Kelvin's rookie year – where you felt like it was kind of Greg and Kelvin. That feeling is gone.
"If you're asking me, 'Do I think he's forcing it to Greg and Kelvin, or are we?' I would say no. We want to make sure that those guys definitely get the ball thrown to them, but we also want to get the ball to (Ted) Ginn, (Devin) Funchess and Philly (Brown). It's hard when you're also trying to run the football. You need a lot of plays. That's what we tell our guys. We need to make first downs, that way we can continue to have balance."
Ginn, Funchess and Brown each had just one catch against the Broncos, but Shula was pleased with the even snap distribution among the wideouts.
Benjamin played 52 snaps, Ginn played 46, Brown played 39 and Funchess played 38.
"There are a lot of guys that deserve to be on the field and that can make plays to help us win games," Shula said. "We looked after the game, and their snaps were about as even (as I've seen). If it can be like this all the way through, that would be ideal, but we know that's not always going to be the case."
View the top photos from Carolina's loss at Denver by team photographer Melissa Melvin-Rodriguez.