MOBILE, Ala – Mike Shula was one of several coaches sporting a new title and a smile at Senior Bowl practices in Mobile.
After spending the last two seasons as Carolina's quarterbacks coach, Shula was elevated to offensive coordinator, replacing Rob Chudzinski who became the Cleveland Browns' head coach.
"I'm grateful and excited," Shula said.
Head coach Ron Rivera is excited too, adding that he selected Shula, in part, because of the continuity he can maintain on offense.
"Mike's background with our offense, and especially his background with Cam (Newton), was very important," Rivera said. "There's not going to be a lot of change. There might be some adjustments as to how we do things, but for the most part, the offense and the terminology will remain the same. We just have to find ways to do things a little bit different and, hopefully, improve."
This is Shula's second opportunity to serve as an offensive coordinator. He held that title from 1996-99 with the Tampa Bay Buccaneers.
In the 14 years since his last stint as a coordinator – with stops as head coach of the University of Alabama and quarterbacks coach of the Miami Dolphins and Jacksonville Jaguars before coming to Carolina – Shula believes he's evolved as a coach.
"I feel like I've grown a lot," Shula said. "You just learn every year. You learn from experiences – all kinds of situations. You learn from coaches you've been around and coaches that you coached against. You want to make sure it makes you better."
Tampa Bay enjoyed plenty of success when Shula was on staff. The Buccaneers reached the playoffs in two of his four years there, highlighted by an appearance in the NFC title game in 1999.
Those Tampa Bay teams were built to win with a dominant defense and a conservative, protect-the-ball offense.
The offense he inherits in Carolina is full of big-play, high-scoring capability, and it's led by Newton – the quarterback Shula has helped develop for two seasons.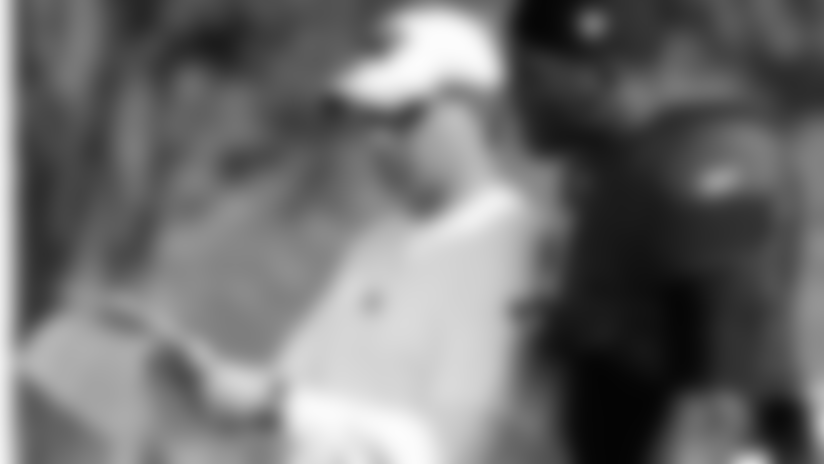 "The reason I'm excited starts with our quarterback," Shula said.
It's easy to understand why.
Newton has thrown for more yards in his first two seasons than anyone in NFL history. Entering year three, Newton has already compiled 7,920 passing yards and 40 touchdown passes. He's also rushed for 1,447 yards and 22 touchdowns.
"He's extremely competitive, and his first two years, he's really excelled more than maybe any other quarterback in the NFL," Shula said.
Shula's role as mentor will change now that he's tasked with managing the entire offense, but Shula still plans to be hands on with Newton at practice and during meetings. 
"We have a really good relationship," Shula said. "Sometimes it's hard for me because I like him so much. It's hard for me to get on him, but he knows I'm going to get on him when it's time to.
"He understands that he still has a long way to go. He's gotten better and in the last half of the season I noticed more of calmness in his game, and that's what we have to build on."
Newton's increased comfort level is extending to Shula as he prepares for his expanded, play-calling role on the coaching staff. 
Calling plays is a pressure-packed responsibility, but it's one that Shula admits he's missed.
"There's definitely a longing for that," he said.
And Shula's trust in Newton has him eager to dial up plays in critical situations.
"I'm really looking forward to calling plays, especially with a guy like Cam," Shula said. "He makes you feel like whatever play you call, he's going to make it work.
"That's his job, and my job is to put him in the best possible position to excel every play."
That goes for every player in the Panthers' offense, and Shula is encouraged by the unit's strong finish to the 2012 season, scoring 30 or more points in four of the final six games.
That surge was particularly meaningful considering the struggles and inconsistency the offense battled through during a 2-8 start to the season.
"When you go through that, it's hard. It's frustrating for everybody," Shula said. "It felt like we were finding different ways to lose games. But everyone just kept doing their job a little better. They kept believing in themselves and said eventually it's going to crack. And it did.
"At the end of the year, guys started taking turns helping our football team win. That's what we have to do as coaches – make these players difference-makers when it counts. You may not always play your best game every week – individually or as an offense – but to find ways to win ball games is really what it's all about."
Shula is proud of the way the Panthers finished, and he's determined to ensure the offense starts fast and plays fast in 2013.
"We need to grow together," Shula said. "We need to a better job in the offseason, in training camp, in the OTAs to start the season better than we did last year.
"The most important message we have to have for each other is the urgency to get it done right away."