CHARLOTTE – Offensive coordinator Mike Shula wasn't exactly sure how his quarterback's rushing workload would unfold, but he added a few more designed runs to the game plan last week leading up to the game against the Bengals.
As the game progressed, Shula couldn't help but notice the success Newton was having on the ground in a variety of situations. Newton scored his first rushing touchdown of the season on a 12-yard run in the third quarter, converted a fourth-and-two late in the fourth quarter with a 5-yard plunge and was a constant threat on the read-option.
All told after five full quarters, Newton ran a career-high 17 times for 107 yards.
"I feel like I ran him too much, and yet, I don't feel like I ran him enough," Shula said.
Such is the ongoing dilemma when the franchise quarterback is such a dynamic weapon as a ball carrier. But with Newton once again healthy enough to run, it's a great problem to have.
"We have to keep him as fresh as we can for the whole year. I don't anticipate us doing that every week," Shula said. "There's still obviously a risk factor. It's a fine line."
Despite Newton running the ball only 14 times in the previous four games, Shula wasn't surprised by his immediate success as a runner.
And the clean pockets and big running lanes Newton received from the offensive line, plus pass-protection from the running backs, helped him have a productive game both on the ground and through the air.
"(The offensive line) took it to heart this week as a group to play better and keep guys off Cam. They did a nice job," Shula said. "Those backs did a great job with protections – stepping up and taking on guys, whereas on paper there is a mismatch size wise. They didn't have any busted assignments."
---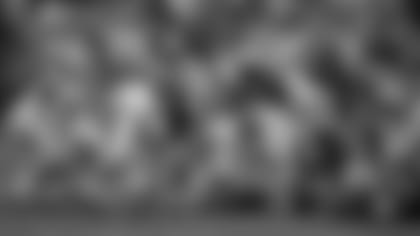 What's holding the Panthers defense back at the moment?
"It's the inconsistencies. It's the ebbs and flows," defensive coordinator Sean McDermott said. "Everyone has a hand in that, myself included."
After the 37-37 tie, McDermott explained that there is no magic formula to fix the defensive issues.
"It is going to take hard work. It is going to take fundamentals, preparation, attitude. That's what goes into improving on a daily and weekly basis," McDermott said. "Right now, we are a defense that is trying to come together."
After finishing second in the NFL in total defense last season, the Panthers aren't used to the high-scoring games they've been a part of in recent weeks, surrendering 37 or more points in three of the last four games.
This may be a new year and a new defense, but the Panthers are holding themselves accountable to the high standard they set in 2013.
"Whenever our offense goes out and scores 37 points, we should always win a game like that – I'm not going to change the way I feel about that," linebacker Thomas Davis said. "We didn't do our end of the deal.
"This is the third time this year we've given up 30 or more points, and that's unacceptable."
McDermott understands Davis' frustration and is confident his unit will turn it around.
"The guys take it personally, which is good," McDermott said. "It means something to them that they come out and play well. That's what we've established here. That's a standard we are all going to hold ourselves to, and that's a good thing."
---
When asked about the impact of Pro Bowl defensive end Greg Hardy's absence, McDermott explained that he must concentrate on the players that are preparing to play.
"Greg is a phenomenal player, and we all know that," McDermott said. "The thing that I have to focus on right now is Greg is not here. And I'm coaching the guys in that room. Greg is on my mind, because I hope he is doing well. My primary concern is the guys in that room and getting this defense to improve each and every day."