CHARLOTTE – To a certain extent, both players have been forgotten men.
Amini Silatolu entered his second season as the starter at left guard in 2013. But his season ended due to a torn anterior cruciate ligament suffered during Week 5. Without Silatolu in the lineup, the Panthers won 11 of their 12 remaining regular season games.
Edmund Kugbila's rookie season never got started. The guard, a fourth-round draft choice from Valdosta State, was placed on injured reserve prior to the start of the regular season.
So both offensive linemen watched from afar as the Panthers earned their first NFC South division title since 2008.
"I was excited for the team, but come game day it was tough," Silatolu said. "It was tough watching from the press box. We all wanted to be down there with everybody else."
Said Kugbila: "I watched these guys win the NFC South – I'm not talking like I was a part of it. I would have given anything to have been out there. But I learned a lot from watching."
Before tearing his ACL, Silatolu had settled into the left guard spot in between left tackle Jordan Gross and center Ryan Kalil.
The 2012 second-round draft choice from Midwestern State started 15 games as a rookie, and things had seemingly clicked for him in year two. Then he was carted off the field in Arizona, and his season went from battling in the trenches with fellow linemen to battling daily rehabilitation assignments.
"I would come in, get work in, get treatment, go home and get ready for the next day," Silatolu said. "It's gone better than expected. I thought it would be a slower process with my knee, but within four weeks I was squatting. I feel good."
Panthers head athletic trainer Ryan Vermillion said Silatolu is making exceptional progress. Silatolu is currently working to add weight that was lost during rehab, but he fully expects to be ready for offseason workouts.
"I don't plan to have any limitations," Silatolu said. "Now, I do have to get my weight up. Since surgery, I dropped a good amount of weight, so I've got to get back to my playing weight. You lose a lot of muscle in your legs after something like that."
Silatolu may have been off Panther fans' radar as he sat out due to injury, but he had already proven he had the makings of an effective NFL lineman.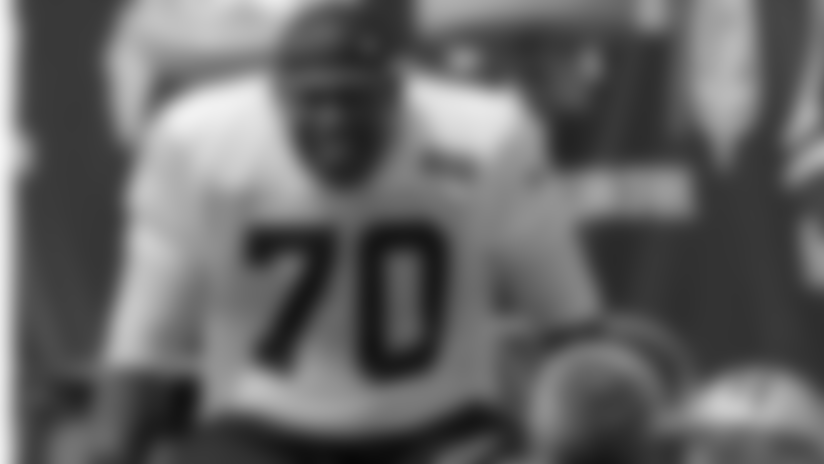 Kugbila, on the other hand, is unproven and unknown.
"A lot of people don't know what I'm about," Kugbila said. "Especially coming from a D-II school, a lot of fans don't know a lot about me.
"I have a chip on my shoulder – I'll say that. I'm just ready to show people what I can do."
Kugbila has had more than his fair share of injuries to overcome.
Last May, he had his left knee scoped for a torn meniscus. During his first training camp, he strained his hamstring.
Then, in late August, he re-injured his left knee. In September, he underwent posterior cruciate ligament and medial collateral ligament reconstruction surgery. The knee swelled during rehab, so he underwent a minor procedure to clean out the knee.
"Finally, it feels strong," Kugbila said, "and I'm just trying to get it stronger."
Vermillion said Kugbila will be ready for training camp. As for the offseason workouts, that's to be determined, but Vermillion said he will be a limited participant at the very least.
Silatolu will step right back into his role as the starting left guard when he takes the practice field. Kugbila's role isn't nearly as clear, but there is opportunity to be had on the Panthers' offensive line, with guard Travelle Wharton an unrestricted free agent and Geoff Hangartner having retired.
"You have to have a starter's mentality," Kugbila said. "If you don't come in here ready to start, you are just wasting your time. Everybody looks for that opportunity. I have it, and I just have to take advantage of it."