CHARLOTTE – Marquis Haynes is not a typical Carolina defensive end.
Aside from Mario Addison, who emphatically proved he could be more than a pass rush specialist, Ron Rivera's Panthers have always employed big, physical defensive ends.
Haynes, the fourth-round draft choice who set a program record with 32 sacks at Ole Miss, is not that type of player.
In fact, most projected him as an outside linebacker in a 3-4 scheme.
But the Panthers believe Haynes – all 235 pounds of him – has a unique ability to pressure the quarterback.
"He's got some intriguing tools and traits to work with," defensive coordinator Eric Washington said during a conversation in his office last week. "He walks in the door with elite get-off."
Haynes is characterized as a speed rusher. He's explosive off the snap and can quickly turn the corner on offensive tackles to get to the quarterback.
That's an obvious strength. But critics have said he needs to develop a wider array of pass rush moves to be successful in the NFL.
That's where Washington and first-year defensive line coach Brady Hoke come in.
"I operate under the premise that none of these (rookies) know how to rush when they get here," Washington emphasized. "Until you get some sacks or pressures in the NFL – none of them know.
"We're going to make him aware of the primary things that allow a one-on-one rusher to win. We're going to take that speed and go to work with it – teach him how to play."
There are several undersized role models for Haynes to learn from (his teammate Addison is an obvious one).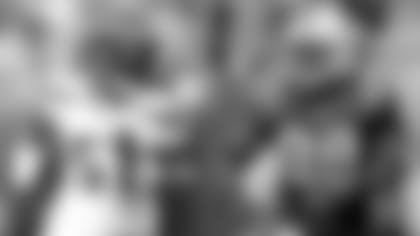 Bruce Irvin, a first-round pick by the Seahawks in 2012, entered the league as a 245-pound pass rush specialist, and he's posted 37 sacks in six seasons.
Five-time Pro Bowler Robert Mathis, a fifth-round pick by the Colts in 2003, was 235 pounds when he entered the league. He spent time as a 4-3 end and a 3-4 linebacker and amassed 123 sacks over the course of 14 seasons.
That's not to say Haynes is going to be just as good as Mathis or Irvin, but Washington said they're "absolutely" role models worth studying.
And Washington wants to make one thing clear: He is not going to treat Haynes like a specialized player. Sure, it wouldn't be smart to have Haynes lining up against an opposing offense's jumbo package. And yes, it makes a lot of sense for Haynes to see the field on third-and-long.
But let's just say the curriculum will include more than "Pass Rushing 101" when Haynes arrives for his first practice as a Panther.
"My approach with him is not going to be any different than if he were the prototypical sized guy," Washington said.
"We didn't draft a third-down pass rusher. We drafted a defensive end. Period."