CHARLOTTE – As the Panthers began their week of preparation for the season opener, they welcomed back two veteran, dynamic leaders on Sunday.
Wide receiver Steve Smith and linebacker Jon Beason returned to the practice field, and both hope to be available for Week 1 against the Tampa Bay Buccaneers.
"Right off that bat (Steve) went back into his normal practice mode – 100 percent all the time," head coach Ron Rivera said. "It was a lot of fun watching Steve back on the football field."
Smith has been battling a foot infection that forced him out of action for the final two weeks of the preseason. The unique nature of the injury required a cautious approach.
"With an internal injury like an infection, you're just not sure how your body is going to react to the medication," Smith explained.
The wideout was excited to be back in action with the other receivers Sunday, but admitted he has plenty of work to do in the coming days to make up for lost time.
"A lot of things to tune up," Smith said. "I've got to play catch up and work my tail off to hopefully be on the same page come Sunday."
Beason has some catching up to do as well, but the linebacker has been in this situation before.
"I've had a nick or missed at least a game every preseason. It's been kind of weird," Beason said. "It's the second time I'll be lining up without playing a down in the preseason. I know how to do it."
A hamstring injury in training camp forced Beason to miss the entire preseason, and he hasn't played in a game since the 2011 season opener when he suffered a season-ending Achilles injury.
"It's been a long time coming," Beason said.
Beason will receive limited reps in practice as he works his way back to full strength.
"He basically split the reps (with Jason Phillips)," Rivera said. "The fortunate thing for us is we have five (linebackers) we have a lot of confidence in right now. Hopefully, they all stay healthy, and we can be very productive as a unit."
Between James Anderson, Luke Kuechly, Thomas Davis, Jordan Senn and Phillips, the Panthers enjoy depth at the linebacker position, and it's a group that's played at high level during the preseason.
Beason plans on making that group even more potent with his return to the lineup, which he envisions taking place in the season opener.
"I feel like I'll be starting," Beason said. "I feel good. I'm taking reps with the ones and building on it."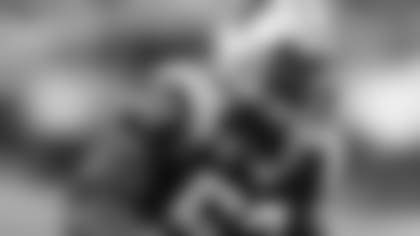 UNUSUAL WEEK OF PREP: With the Democratic National Convention coming to Charlotte this week, the Panthers are leaving town for Tampa Bay on Tuesday to avoid the increased activity at Bank of America Stadium.
Rivera won't allow the unique game week circumstances to become an excuse for his team as they prepare for the Bucs.
"We've got (an excuse) built in, whether you want to use it or not is up to you," Rivera said. "We can't accept that, we're not going to accept that."
In fact, Rivera sees the additional time on the road as an opportunity to further develop cohesiveness.
"This can be a rallying cry, it really can," Rivera said. "It gives us an opportunity to get away and focus in on an opponent, focus in on football. I think the attitude is going to be about coming together."
"It's going to be like camp. You're staying in a hotel, guys are going to have a lot of down time to spend with each other," Beason said. "There are benefits to that."