SPARTANBURG, S.C. – When Steve Smith heard the news that Ricky Proehl was promoted to wide receivers coach, he quickly reached out to his friend and former teammate.
"Steve texted me: 'I want you to make me better. I want you to push me,'" Proehl said. "Steve has been wanting that, and I'm going to give it to him.
"He knows that I can make him better, especially at this stage in his career."
And to make Smith, a 12-year veteran, better, Proehl wants to develop a particular aspect of his game.
"We can utilize him in the slot."
In many ways, Smith is the ideal slot receiver. At 5-foot-9, he possesses explosion off the line, quickness in and out of his breaks and a toughness that's required to both take and deliver the hits that are sure to come over the middle.
"Yeah, I think I have one or two of those qualities," Smith said with a smile.
So Smith and Proehl discussed an expanded role in the slot shortly after Proehl's promotion.
Both are enthused about giving it a shot.
"I'm excited about working with him inside, between the hashes," Proehl said. "He's got all of the tools to do that, and it's something that he wants to get better at. He's already communicated that to me.
"It's a different animal. There are a lot more guys in there flashing, so it's an adjustment, but it's something that he can be really good at."
Smith feels the timing is right for a more involved role in the slot.
"I'm looking forward to it," Smith said. "As you get older as a player, you can do a couple things. You can either adapt or not adapt and fade out.
"For me, what I'm trying to do is adapt."
That said, Smith will still be relied on as a downfield target on the perimeter. Proehl knows the Panthers offense needs that from their star wideout, who ranks as the team's all-time leader in receptions (772) and receiving yards (11,452).
"He's as good as there is with his ability to go up and make a play on the ball," Proehl said.
Head coach Ron Rivera agrees and he believes the offense can benefit from utilizing Smith between the hashes.
"Steve will continue to be the deep threat," Rivera stressed. "But you take that explosiveness, that quickness and you put it in the slot and he can really work the underneath. We know Steve can make plays in the slot for us, and it will save a couple extra reps for when he does need to go deep."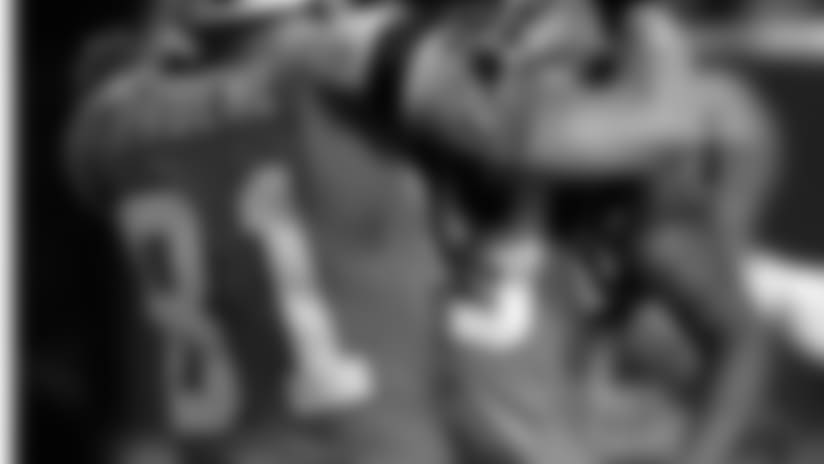 It's no coincidence that Smith is embracing the slot idea in Proehl's first season as the wide receivers coach.
There is a trust between the two already.
Smith and Proehl were teammates in Carolina from 2003-05. Proehl, a former slot receiver who enjoyed a 17-year career in the NFL, then re-joined the organization in 2011 as an offensive consultant before Rivera chose him to take charge of the Panthers' wide receivers in January.
"There is such a mutual respect for each other," Proehl said of his relationship with Smith. "At times, we may jaw back and forth at each other. But there is that respect. He is the most ultimate competitor that I have ever been around, and that's what makes him great.
"He is more mature than he was when we played together. He can control his emotions on a more consistent basis. But his fire and his passion to play hasn't changed a bit."
Instructing a passionate, decorated receiver like Smith as a first-year position coach seems like it would be a daunting task for most.  
But it's a unique set of circumstances for Proehl.
He has already earned Smith's respect. They previously challenged each other as teammates, and they expect that to continue in this newly formed player-coach relationship.
"I know Steve probably as good as anybody. He wants to be coached. He can take getting yelled at, he can take being pushed – he wants you to push him," Proehl said. "People are intimidated by him sometimes, because he can get loud and he can be abrasive, but he loves being pushed."
Proehl wants to push Smith. And Smith believes he can.
"Here's the thing with Ricky – whether he's a coach or a teammate, it really hasn't changed for me and him. We've always communicated, and he's always had that teaching mentality," Smith said.
"He is a guy who has complete transparency. With him, you know where you stand. That's cool."