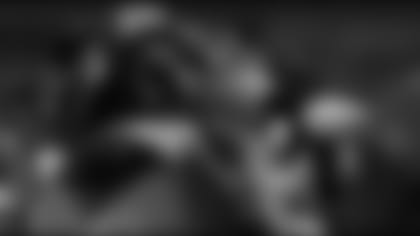 The Panthers always seemed together as a group this season. (PHOTO: ANDREW MASON/PANTHERS.COM)*
CHARLOTTE --The hugs and handshakes have been exchanged; the jerseys have beentoted home for framing and posterity to commemorate a season spent inthe Panthers' black, blue and silver colors.
But, sadly, the goodbyes were said Sunday, when the Panthers gathered for a final time before scattering.
Yes,history dictates that many players will return.  Teams that finish 12-4or better with a majority of starters 28 years of age or youngertypically have that sort of retention.  And the Panthers' youth in somekey areas -- such as running back and offensive line, where no starterin Saturday's game was older than 28 -- lends credence to the notionthat the shining sun on this year's horizon was a dawn in the east,rather than a set in the west.
But the team won't be exactly the same by the time September arrives.
"It'ssad, because you know for sure that all 53 guys are not going to betogether again next year," cornerback Ken Lucas said. "You know thatsomeone is going to be gone.  That's what makes this game so tough,because you make friendships, and the next day they're gone.  It's verytough."
It is the nature of the sport, not only because of freeagency, but because the draft brings a transfusion of new players everyyear.  A team may return most, if not all, of its crucial parts, buteven a tweak ensures that the locker room will not look exactly thesame as it did this past season.
And that's what pained thePanthers most as they parted for the offseason.  To a man, this year'sedition was special, a stew of divergent personalities that, whencooked together for a few months, provided one of the most savoryseasons in the club's 14 seasons.
This was no ordinary concoction.
"Wecare about each other, and that's one reason we had such a goodseason," linebacker Jon Beason said. "It's all about playing for theguy next to you."
Added Lucas: "We learned how to be a family. If we didn't get anything else out of this season, we learned how to bea family.  And that's the most important thing."
And that beganin the crucible of crisis in training camp -- the incident between KenLucas and Steve Smith that a myriad of Panthers pointed to throughoutthe season as a moment that could have been disastrous, but insteadlifted the team to a new level of unity.
"Everybody in thislocker room has truly learned the essence of what love is all about asfar as loving one another and coming together regardless of ourdifferences as people," Lucas said. "We exemplified that throughout thewhole season.  When one guy was down, another lifted him up.
"Itwas a good locker room.  Probably the most talented team I've ever beenon.  I'm just so disappointed that we didn't get to the ultimate goalof winning the Super Bowl this year.  But it was exciting to play withthese guys."
And the season was flooded with exciting moments that made a home postseason game possible.
"Thiswas a special team," fullback Brad Hoover said. "We didn't show it theother night, but to go 12-4 and win our division and win some of thegames the way we won them, too, it was very special. 
"The waythis team came together and how we bonded throughout the offseason andduring the season -- there's a lot to be said for that.  Butultimately, there's one goal -- and we didn't make that goal this year."
Yetwith three postseason trips, two division titles and an average of 10.2wins a year (including playoffs) in the last six years, that goalremains realistic -- especially with many players only beginning theirprime years.
"We truly have good guys in this locker room,"Beason said. "There isn't a guy in this locker room that I can say Idislike or couldn't hang out with off the field.  That's really whatit's all about.  That's how you win championships. 
"If we can stay together, I think we can get it done."
His boss, for one, hopes that will be the case.
"It's a good core of players to move forward with," head coach John Fox said. AddedHoover: "I think we've got a lot of core guys returning for us.  A lotof young guys have learned things this year. But it's something we canalways build on and continue to get better.  You never know going intonext year, but I think we've got the foundation there to be successfulagain."