CHARLOTTE -- The Carolina Panthers have faced some unique challenges approaching the most important game in the history of Bank of America Stadium, but executive director of stadium operations Scott Paul expects it to be business as usual come kickoff of the NFC Championship on Sunday evening.
Paul said he has a lot of people to thank for that.
"We live in a great community. We have a lot of people wanting to help us," Paul said. "We just want to thank them for everything they've done over the last few days to get this stadium ready for our fans.
"This is the biggest game in the history of this stadium, but we're not treating it any different. It's a championship game, and there will be more excitement, but from a security aspect and fan services aspect, they should expect the same as usual."
The winter weather that pelted the region beginning in the wee hours of Friday morning and continuing for nearly 24 hours put the stadium staff in mostly unchartered waters, but some neighbors just down the road with some experience with snow and ice removal immediately pitched into help.
In addition to extra effort from groups always involved with Panthers games -Delaware North, Stadium Clean headed by owner Darla K. Iannarino, guest relations personnel, Paul's stadium operations staff and other Panthers employees – the organization got a big helping hand from Charlotte Motor Speedway president and general manager Marcus Smith.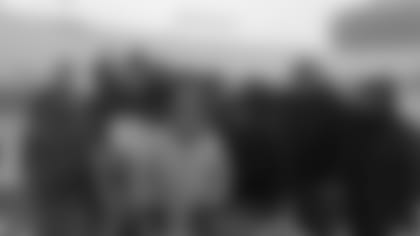 "Marcus Smith called us a few days ago and said, 'Look, we've got the resources to help. We deal with this periodically, and we're willing to do whatever you guys need us to do to help,'" Paul said. "So they sent 20 people over the last few days to help us with snow and ice removal.
"We just want to thank them for assisting us with this snow and ice removal, as well as other people in the community and the Panthers organization that have offered stadium operations assistance."
The work, of course, isn't done, especially in regards to the field itself leading up to Sunday's 6:40 p.m. kickoff.
"The field has been covered since Thursday afternoon. We've had to remove snow from the tarp twice now," Paul said Saturday. "We had hoped to take the tarp off today, but we're getting down into the 20s tonight, so we're going to leave the tarp on.
"We'll have to get some more ice off the tarp in the morning, and then we're hoping to take it off around 11, 12."
Normal stadium policies will be in effect, but Paul said the stadium will open its gates to fans 40 minutes earlier than usual – at 4 p.m. Paul offered a couple of pointers for those fortunate enough to have tickets for the first home NFC Championship game in franchise history.
"We'll have the AFC Championship game on everywhere inside the stadium. We want to encourage our fans to get in early to make sure they can get in their seats before kickoff," he said. "We're going to have a freeze tonight again, so fans should expect some slush at their feet. Wear shoes with thick soles. We're going to do our best to get it melted, but there will be some slush inside the stadium."