CHARLOTTE – When new linebackers coach Steve Russ hits the practice field this offseason, he'll be both coaching Superman and coaching against Superman.
That's a longtime nickname for quarterback Cam Newton, but it's also a name that Russ and other assistant coaches at Wake Forest pinned on then-Boston College linebacker Luke Kuechly around the time the Panthers drafted Newton in 2011.
"Luke Kuechly was tearing up the ACC. They couldn't stop him," Russ said. "They had to game-plan around him, and then the game plan didn't work."
Now it's up to Russ to devise game plans related to Kuechly – ones that will maximize his already accomplished game.
It's a unique challenge for a coach with a unique background, a former NFL player and a former Air Force player, coach and officer who is now preparing to coach on the pro level for the first time.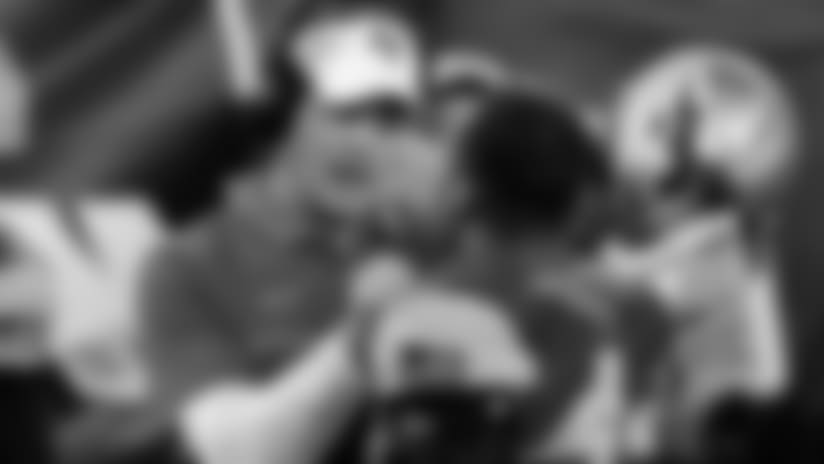 "Going back to my military days, you've got people that are learning how to fly in undergraduate pilot training, and then you've got the top of the food chain. But those guys still go to training, even the top guns," Russ said. "Every single player has got to know that I'm there to help them become the very best they can be – even if it's Thomas Davis who has been playing for 13 years.
"It's giving the fighter pilots the information that they can use so that they can complete their mission effectively. I have to be able to do that for them and be able to satisfy them intellectually too because guys like that want that – give it to me, give it to me, give it to me."
Russ said he's honored to be heading up such a heady group, and that he'll collaborate with Kuechly, Davis and Shaq Thompson to come up with ways to make arguably the best linebacking corps in the NFL better still. Though coaches aren't allowed to talk football with their players during this dead period, the process of getting on the same page has begun.
"I talked to Luke and Shaq on my interview and just let them know a little bit about me and my coaching philosophy. TD was down in Orlando (at the Pro Bowl)," Russ said. "I'm not trying to be their new best friend, not trying to wear them out, but I would like them to get a feel for me before we're allowed to meet.
"It always starts with building trust and respect, and then if you can show them specific things – little things – that may help them be a little bit more efficient in their movement or with a certain technique, you can help them in that way. It's about applying their gifts, their talents in a way that's going to maximize it even more."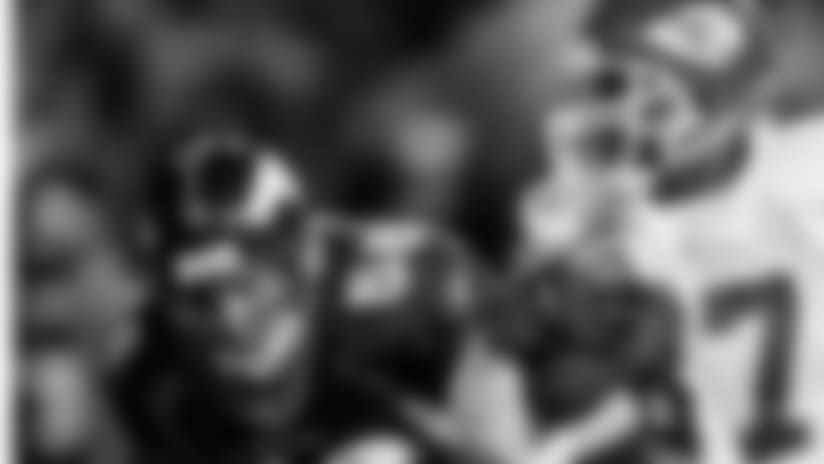 Russ knows a thing or two about getting the most out of a football player regardless of talent level because it's how he lived his life prior to coaching. The Wisconsin native played linebacker for three seasons at Air Force, then became just the fifth (and there have only been two more since) player in the history of the service academy to be selected in the NFL Draft.
Taken by the Broncos in the seventh round of the 1995 draft, Russ first had to log two years of active duty before he could possibly play as a pro, a scenario that made him even a longer shot than most seventh-rounders.
"My first job in the Air Force was an assistant strength coach – that was my first nine months of service – and then I went on to be a systems acquisition/contracting at Wright-Patterson Air Force Base in Dayton, Ohio," Russ said. "I did that for the other 15 months, and my vacations were my two training camps and preseason games to be sure I was learning the system and the speed of the game and so I wasn't out of sight, out of mind."
That dedication paid off. After his military service, Russ stuck with the Broncos from 1997-2000, capping the first two seasons with Super Bowl triumphs.
"It's been an amazing journey," Russ said.
After his playing days, Russ' coaching career began in 2001 as linebackers coach at Ohio University. That's the same year another coach joined the Ohio staff coming off a military stint, one that had just served three seasons as defensive coordinator at the Naval Academy Preparatory School in Rhode Island.
His name? Eric Washington - the Panthers' longtime defensive line coach turned defensive coordinator.
"He's somebody you're instantly drawn to and instantly respect – not just as a coach but as a man," Russ said of Washington. "It's been a lot of fun to watch what he's been able to do and how he's grown, and now to think that we cut our teeth together as coaches is pretty phenomenal.
"I couldn't be more appreciative of him extending this opportunity, and Coach (Ron) Rivera as well."
Washington was at Ohio for three years before heading to Northwestern and then on to the NFL. Russ stayed as Ohio another year before heading to Syracuse, then Wake Forest, then back to Air Force in 2012. He spent the past six seasons at his alma mater, the last four as defensive coordinator before joining the Panthers.
"Not only to be able to coach and teach on a stage like this, but to inherit a room with Luke and TD and Shaq and the rest of the guys – it's the ultimate group of professionals and certainly one of the best linebacking corps in the league," Russ said. "Every bit of advice I heard from anybody who made the transition from college to the NFL was, 'Be you.' When I teach and communicate, I hope it will be in line with what they want and need and expect.
"I've got to be on the top of my game."