CHARLOTTE - The Carolina Panthers have released wide receiver Steve Smith.
A veteran of 13 NFL seasons, all with the Panthers, Smith holds more than 30 career, single-season and single-game franchise records on offense and special teams. He is Carolina's all-time leader with 75 total touchdowns (67 receiving, six returning, two rushing), 67 receiving touchdowns, 836 receptions, 12,197 receiving yards and 43 games with 100 or more receiving yards. Smith has made a catch in a team-record 106 consecutive games. He stands second in team history with 182 games played, 161 games started and 454 points scored.
"Steve Smith has been one of the NFL's finest receivers for over a decade and has been the face of the franchise for a large part of the team's history," said general manager Dave Gettleman. "This was not an easy decision. As a team, we made a step forward last year; however, we are also a team in transition, which is a part of the NFL."
"Steve has been an important part of this team since I have been head coach and before my arrival," said head coach Ron Rivera. "I have coached against him and have had the benefit of having him on the Panthers. He is a great competitor with Hall of Fame worthy statistics and has made a great contribution to our community. I wish him nothing but the best."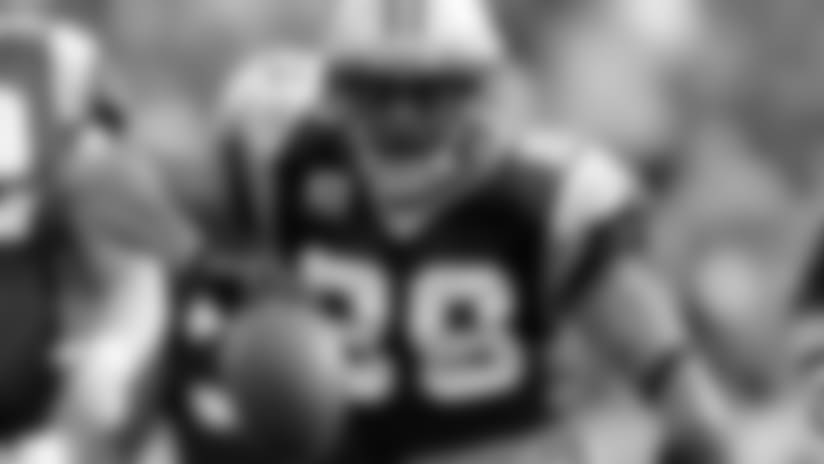 In 2013, Smith recorded 64 catches for 745 yards and four touchdowns and became the 29th player in NFL history to produce 800 career receptions and the 22nd to compile 12,000 career receiving yards.
A five-time Pro Bowl selection (2001, 2005, 2006, 2008, 2011), Smith ranks 11th in NFL history for 100-yard receiving games, 19th for receiving yards and 25th for catches.
Drafted in the third round (74th overall) by Carolina in 2001 from Utah, Smith scored on the first regular season touch of his career, returning the opening kickoff at Minnesota (9/9/01) 93 yards for a touchdown. He was the only rookie named to the Pro Bowl that season and earned All-Pro honors from the Associated Press, Sports Illustrated and The Sporting News. In 2005, Smith won the NFL's "Triple Crown," leading the league with 1,563 receiving yards and tying for first with 103 receptions and 12 touchdown catches to earn AP All-Pro honors for the second time.
Smith was a member of four of the five playoff teams in Panthers history (2003, 2005, 2008, 2013). In nine postseason games, Smith totaled 51 receptions for 856 yards and eight touchdowns. His postseason receiving yardage total is the most in NFL history by a player in his first nine playoff games.
I will always be a Carolina panther No contract can ever change that CLT is my home and will always be my home... I love you #panthernation — Steve Smith (@89SteveSmith) March 12, 2014