CHARLOTTE – When the legend of "Riverboat Ron" was born, the Panthers' head coach said he more liked to think of himself as "Calculated Risk Ron."
Now first-year defensive coordinator Steve Wilks is developing quite the reputation for being ultra-aggressive when it comes to coming after opposing quarterbacks.
But Wilks, like Rivera before him, says there's more method than madness.
"We're not unsound in what we're doing," said Wilks, who spent the previous five seasons as Carolina's secondary coach . "It's very calculated when we pressure, based on the situation."
Head coach Ron Rivera quoted analytics that the Panthers are blitzing 40 percent more often than they did over Sean McDermott's six seasons as defensive coordinator. Whatever Wilks is doing, it's working: The Panthers rank second in the NFL with 27 sacks after taking down Jameis Winston three times Sunday, and more importantly the defense held the Buccaneers out of the end zone in a crucial 17-3 victory.
Halfway through the schedule, the 5-3 Panthers have prevented four of their opponents from scoring a single offensive touchdown – already matching the franchise record for a season set by the 2005 team that advanced to the NFC Championship.
"He and Sean are both very good defensive-minded coaches, and obviously Sean is getting his shot and doing a great job in Buffalo (5-2 in his first year as head coach). Steve is doing a great job, too," Rivera said. "His personality is that he's an aggressive style of guy. He's doing a lot of things aggressively. We're attacking."
One of the key plays Sunday was a blitz featuring cornerback Captain Munnerlyn, who got a hand on Winston just before he threw to force a floater that safety Mike Adams picked off to preserve a 10-3 lead and set up the offense to double the lead with a 48-yard scoring drive.
Some equate blitzing with high risk, but Wilks calls it a "calculated guess." Some see blitzing as a desperate ploy when the front four isn't good enough to disrupt the quarterback on its own, but Wilks sees it as a part of an aggressive mentality that pays dividends – a mentality he's had since his playing days.
"I would probably have to go all the way back to when I was at player at Appalachian State for Ruffin McNeill," Wilks said when asked about his influences. McNeill was a defensive coach at Appalachian at the time who later served as East Carolina's head coach and is now assistant head coach and defensive tackles coach at the University of Oklahoma.
"I think a lot of times, defenses sit back and react to what offenses are doing," Wilks continued, saying he prefers "the mindset of being aggressive and really trying to force the hand."
McDermott, like Rivera a product of former Eagles defensive coordinator Jim Johnson's ultra-aggressive approach to blitzing, was never shy about attacking opposing offenses, either. But Rivera believes that Wilks is in better position than McDermott was to attack because of some new players – and some newly experienced ones – dotting this Carolina defense.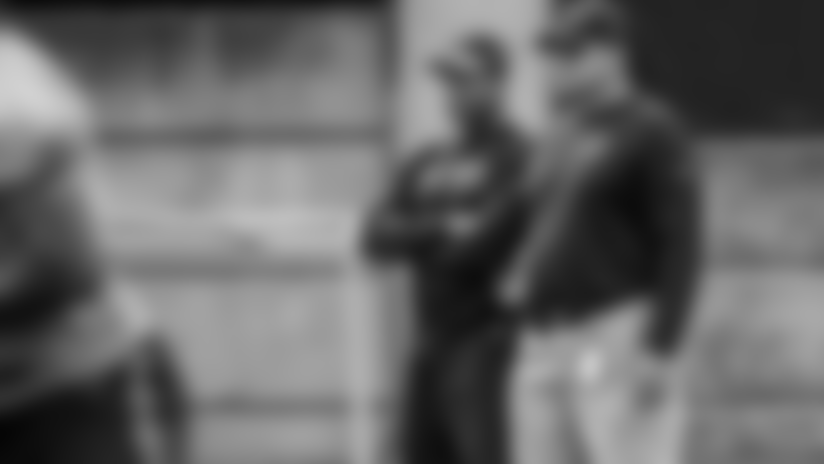 "Part of it with Sean was that we didn't have the same type of personnel," Rivera said. "You look at (linebacker) Shaq (Thompson) now in his third season, you can find different ways to use him. We started to grow that package with Sean, and Steve has taken it to another level.
"You look at what we have with the rush right now, with the way Julius (Peppers) has come in – seven-and-a-half sacks in eight games – that's very impressive. You've got Mario (Addison, who led the Panthers in sacks for the first time in 2016) coming off the other edge."
Just as important are developments farther from the line of scrimmage. Munnerlyn is back with the Panthers for the first time since 2013 and has a combination of speed and physicality that works well in blitz packages. Then there are cornerbacks James Bradberry and Daryl Worley, rookies a season ago now better equipped to hold up when the defense blitzes.
"James has definitely improved from last year. He was good last year, but he's definitely taken a step in my opinion, as well as Worley," Wilks said. "When you have guys like that, you feel more comfortable as a play caller about putting those guys in those situations knowing that they're going to succeed."
And these days, Wilks and Co. are succeeding.
"When you have guys that are effective in certain roles, you put them in those roles and use them," Rivera said. "He's looking for opportunities to attack."
View the top photos from Panthers at Buccaneers by team photographer Melissa Melvin-Rodriguez.