CHARLOTTE – Jonathan Stewart is more of a "three yards and a cloud of dust" kind of running back – the kind that knocks the dust off an opponent's jersey with his physical style of play.
Early in Sunday's showdown with the Vikings, however, Stewart was feeling his oats in a decidedly different way.
"I knew I was ahead of everyone," he said. "I was like Usain Bolt."
On a third-and-1 play on the Panthers' first possession, the right side of Carolina's offensive line paved a path that sprung Stewart into wide-open spaces. Five yards ahead of the nearest defensive player with 40 yards to go, Stewart lengthened his lead after Vikings defenders realized there was no catching him.
Stewart caught a glimpse of his cushion on his way to a 60-yard touchdown run. Then he did a 180-degree turn at the goal line and fell backwards into the end zone like a carefree swimmer falling back into the lake on a lazy summer day.
Sunday was anything but a summer day, but Stewart still enjoyed a day in the sun.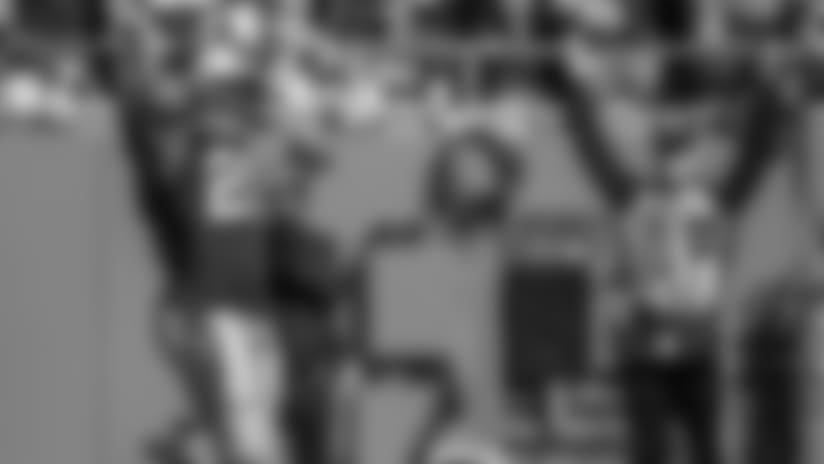 "I've always wanted to do that," Stewart said. "I looked at the Jumbotron and saw that I had a nice little lead. I thought, 'Well, this is the time.' "
No doubt, Stewart also has thought about scoring three rushing touchdowns in a game – something he had never done in 128 chances before Sunday, when he scored Carolina's first two touchdowns and then the game winner in the final two minutes to key a crucial 31-24 victory.
Not bad for a guy who had three rushing touchdowns all season; not bad for a guy who had one rushing touchdown to his credit just two weeks ago.
"I'm just excited for him. I think he's an incredible football player," center Ryan Kalil said. "I know when running backs get older, people like to start pushing them out the door. So for him to run that far and score, it's huge for him. It's huge for us. It's a big confidence booster."
Back in Week 9, the 30-year-old Stewart experienced another first – his first game with two lost fumbles. It provided extra ammo to critics who thought Stewart's best days were behind him, but Stewart responded in kind.
Head coach Ron Rivera stuck with him, literally right after the fumble trouble and in subsequent weeks. Stewart rushed for 110 yards the next time out in a Monday Night Football victory over the Dolphins, then he scored touchdowns in each of Carolina's next two games before gaining 103 yards against the Vikings.
"We didn't doubt him. That's why we kept putting Jonathan out there," Rivera said. "We believe in who he is for us."
Stewart's final two touchdown runs Sunday more typified what he's best known as. He found the end zone on Carolina's second drive much like his first, only this time he powered through multiple big bodies for a 1-yard score on third-and-goal.
Then, after a 62-yard run by quarterback Cam Newton in a tie game set the Panthers up at the Minnesota 8 with two minutes left, it was again Stewart's time to shine. Newton handed the ball off to Stewart three consecutive times, and he gained positive yards on all three capped by a 1-yard touchdown for the game winner.
"Stew just being Stew – jumping over the top and getting in by any means necessary," Newton said. "Extremely big for us. That's the physicality that our offensive line, our team can present. We're going to keep doing that. It was very big for us to have that kind of momentum this time of year."
This is the time of year when the Panthers traditionally crank up their running game. When temperatures drop like they did Sunday, Stewart drops the hammer.
"It's a different ballgame this time of year," Stewart said. "When you run the ball and you run it successfully, it's all about who is more physical. We were the more physical team today."