CHARLOTTE – Late in the 2014 season, we witnessed the revival of running back Jonathan Stewart.
We witnessed punishing runs, breakaway speed and skillful patience – the total package. It led to production and wins.
"Getting opportunities to get in the open field and make plays – that's all you can ask for as a running back," Stewart said.
After running back DeAngelo Williams fractured his hand in Week 13, Stewart took over as the starter and flourished. Carolina needed to win the remaining four games to qualify for the postseason. The Panthers won them all, with Stewart averaging almost 20 carries and just over 100 yards per game.
Stewart was the NFL's second-leading rusher behind Dallas' DeMarco Murray over the last five weeks of the regular season. In those five games, he rushed for nearly as many yards (486) as he gained in the 2012 and 2013 seasons combined (516).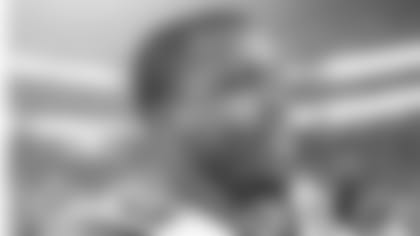 In the NFC Wild Card Playoff against the Arizona Cardinals, he produced 123 yards and one touchdown on 24 carries to help Carolina notch its first playoff victory since 2005.
But when asked about that long-awaited individual success, Stewart stared ahead with a straight face and said, "It's just part of the journey. The moment you start focusing on that, you miss out on other things along the journey."
The six-year veteran had every right to say it felt great to prove he could still perform at an elite level. But he didn't.
"I'm just grateful for the opportunities that I had," Stewart said. "I try to make those moments last and relish the wins.
"There were a lot of unfortunate situations we had to deal with this year, but we put ourselves in the playoffs and it says a lot about our team."
It also says a lot about Stewart – who solidified Carolina's playoff push by providing a consistently effective run threat.
He was in a zone, and he's already focused on finding it again for 2015.
"I'm really excited for next year," Stewart said. "You have to find your zone throughout the offseason. It starts now."