The Panthers Privileges program is excited to share the stories of the Panthers' most dedicated fans and why they are committed to the Carolina Panthers. Our first story from the stands features longtime PSL Owners Jeffrey and Sheree Pintea.
By Jeffrey and Sheree Pintea
What do the Panthers mean to me? Friendships, lifestyle, and to always Keep Pounding.
In 1993, when the Carolinas were awarded an NFL franchise, we wanted to be on the ground floor of the new team, unknowing, it was going to change our lives forever. After buying PSLs and going to the inaugural game at the Hall of Fame in Canton, Ohio, we proceeded to attend every game at the Panthers temporary home in Clemson, S,C. We even bought a new SUV with the thought of tailgating that year at Panthers games.
We were so ready for the new stadium in Uptown Charlotte to open that during that time, we customized our yellow 1974 VW Super Beetle to look like the new Carolina Panthers helmet.  The all chrome silver VW features black and blue racing stripes mimicking the Panthers helmets with the token Panthers logo in the middle of each door.  In 1996, my wife Sheree and I were even selected as Number One Fans by WSOC-TV Charlotte.
Tailgating in a Volkswagen was always a challenge, so in 1998, I built a 40"x 40" tailgate trailer to be pulled by the VW. Now we could carry all of our supplies, tents, grills, and gear to tailgate like pros. In 1999, Visa ran a contest looking for the No. 1 Fans of all sporting teams across the country, and for my efforts, I was selected as the No. 1 fan of our Carolina Panthers. Sheree and I were flown to the Pro Football Hall of Fame in Canton, Ohio to be honored with the rest of the devoted fans from other teams.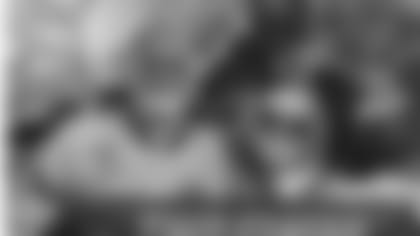 Over this time, we were not only huge Panther fans through tailgating, attending home games and traveling to selected away games, but Sheree and I, along with several other No. 1 fans, helped start Pro Football's Ultimate Fan Association (PFUFA). The PFUFA is a group of devoted fans across the globe who believe in promoting the fellowship of all fans, encouraging sportsmanship and supporting charitable activities.  In 2003, Sheree was also selected through this program as a No. 1 Fan of the Carolina Panthers and joined me as one of the first husband and wife pairs to be honored. 
As time passed, the Panther helmet VW got a makeover in 2007 to it's current black and blue theme in 2007.
Fast forward to 2018, we are still attending games and have continued to go back to Canton, Ohio every year since 1999 to attend the greatest reunion of No. 1 fans across this great country with our PFUFA brethren.
Since it is my belief that you can never have enough tailgating paraphernalia, I once again had trouble getting all my supplies in the VW and the trailer.  I purchased a 12'x6' trailer equipped with a TV from fellow Panthers fan Danny "DownEast" Dickerson and now I can carry all my supplies in style.
Our current tailgating group, "Panthers Fanz Tailgating," are some of our closest and dearest friends, and we all have a distinct passion for our Carolina Panthers. Kindled from our early years as Panthers fans, these friendships have have grown into the lifestyle that we couldn't live without.
The memories we have formed by following the Carolina Panthers have not only provided touching moments, but also a lasting impact on our lives and the people we have come across. We will continue to Keep Pounding and supporting our Panthers in their quest for a Super Bowl title.