PITTSBURGH – It wasn't exactly the bundle of joy that he left behind in Charlotte, but new father Derek Anderson cherished it in its own way.
Anderson, working on 90 minutes of sleep plus a quick nap during team meetings, started for a Panthers team thin at quarterback Thursday night and earned the game ball for helping Carolina earn a 10-0 victory over the Pittsburgh Steelers to close out the preseason.
When Anderson returned home in the wee hours of Friday morning – about 15 hours after he arrived in Pittsburgh – he stole some much-needed shuteye before heading back to the hospital to be with newborn daughter Amelia and his wife, Mallory.
All in all, Thursday was an exhausting but satisfying day on the heels of what Anderson called "the best day of my life."
"I really appreciate everybody from Mr. (Dave) Gettleman to Coach (Ron) Rivera and everybody that texted me and called me," Anderson said. "It's special to me, seeing how much these guys care about me to allow me to be able to be there and then come here today.
"Under the circumstances, I think I did all right."
With starting quarterback Cam Newton out with a rib injury, Joe Webb was the Panthers' only healthy quarterback other than Anderson, who was otherwise occupied when the team flew to Pittsburgh on Wednesday afternoon.
His wife had checked into the hospital Tuesday evening but still hadn't delivered the couple's first child when it came time for the team to hit the road. Anderson stayed behind for the birth Wednesday afternoon, then flew to Pittsburgh on his own Thursday morning.
"It's been a little bit crazy, obviously," Anderson said. "Yesterday was awesome. My wife did an awesome job, and it was the best day of my life.
"It was super-cool, and then I got a little sleep, got up and got on a plane and came here. I was a little irritable this morning, but I got a little nap when I got here. They were just going into meetings, and I said to Coach, 'I just got here. Is it all right if I just take a little nap?' And he was like, 'Go ahead.' "
Hours after trying to help his wife figure out how to feed Amelia in the middle of the night – "This is new to both of us," Anderson said – he was feeding passes to his receivers like nothing had happened.
"That's the kind of quarterback you want," center Ryan Kalil said. "A guy that will be there for the birth of his kid and then get on a plane a couple of hours later and come play a football game."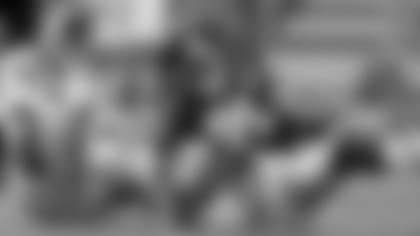 Anderson had the hospital bracelet on his left wrist after the game, but on his final snap of the night, all the attention shifted to his right hand. A wayward shotgun snap midway through the second quarter caused Anderson to dive for the loose ball after he overran it. Steelers linebacker Jarvis Jones came up with the loose ball, and Anderson came up in pain.
He went to the locker room for X-rays on his right hand, which came back negative. After the game, Anderson said it appeared to be just a bruise.
"It's all right," he said. "I just got stepped on, and the doctors checked it out. I think it was when I dove. It's a little sore, but I'm sure it will be fine."
The Panthers led 3-0 when Anderson departed, and Webb took over and avoided an injury of his own that would have forced the Panthers to turn to an emergency option under center.
Webb played well just like he has all preseason, but there was little doubt who earned the lone game ball that Rivera handed out this preseason.
"He deserved that game ball," wide receiver Brenton Bersin said. "For him to be up all night with his wife, have his first kid, fly here by himself and start and play well, that's just awesome."