TAMPA, Fla. – Leading up to his first 48 regular season games as a Carolina Panther, quarterback Derek Anderson prepared every week as if he were going to be the starter – even though he knew that he wasn't going to be.
So Sunday, when an injury to Cam Newton finally thrust Anderson into the starting lineup, it shouldn't have come as a surprise that Anderson was prepared.
Perhaps the only thing Anderson wasn't prepared for was how much fun it would be.
"I had a blast," Anderson said. "I've been through a lot of different things, and I hadn't been out there in four years. To play a solid football game and get a win, that was big for me. It really was."
With Newton missing the first game of his NFL career to give him more time to recover from a rib injury, Anderson started his first game since 2010 and completed 24-of-34 passes for 230 yards and two touchdowns with no interceptions to lead the Panthers to a 20-14 victory over the Tampa Bay Buccaneers.
Fighting through cramps in humid conditions, Anderson showed no signs of rust. Just as importantly, his teammates never wavered around him.
"We knew how much value he brought to this team," said tight end Greg Olsen, who caught eight of Anderson's passes for 83 yards and one touchdown. "Obviously, you never want your starting quarterback not to play. That's the worst thing that can happen, but not all teams are as fortunate as us to have a backup who is starting-caliber for a lot of teams.
"If something does happen to your starter, it gives you a lot of confidence that you can still play well and execute the offense. I'm happy for him. He deserved to have that chance."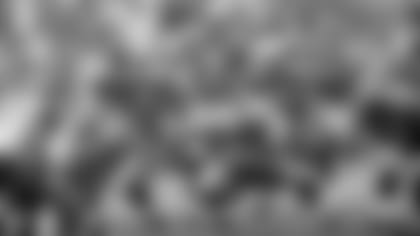 Anderson learned even more about how the locker room felt about him when the organization allowed him to travel to the Panthers' final preseason game on his own so he could stay behind for the birth of his first child.
"I know that a lot of guys in that locker room have my back," Anderson said. "To go out there and not let those guys down, that's the biggest thing that pushes me every week. I'm just happy we could get the win while he was out."
Anderson, of course, was referring to Newton, the Panthers' franchise quarterback who improved to the point late in the week that it looked he might be able to play. But head coach Ron Rivera, after consulting with doctors, athletic trainers and assistant coaches after the team arrived in Tampa on Saturday, decided it was best - all things considered - for the Panthers turn to Anderson.
"Then I talked with Cam, who wasn't very happy about it," said Rivera, who sounded confident that Newton would be ready for Week 2. "He wanted to play so bad, in the worst way, but the one thing the doctors stressed to me is that if we could create one more opportunity he would be that much healthier.
"The one thing I told him was, 'Be there for your teammates on the sideline.' We actually had to pull him back a couple times. He wants to be a part of everything we do."
At one point, Newton actually took over the huddle from Anderson. As Anderson consulted on the sideline in advance of a first-half drive, Newton made his way onto the field and into the huddle.
"He snuck out there when I was on the sideline. He ran by me, and I thought, 'Where did he go?' " Anderson said. "I know it killed him not being able to play, but he had good energy on the sideline, and in the conversations we had, he did a great job as far as sharing with me what he was seeing."
What Newton and his teammates saw was a quarterback in control, a confident veteran recapturing at times the form that made him a Pro Bowler for the Cleveland Browns in 2007.
Anderson gave credit to the Panthers' new-look offensive line, which only allowed one sack and didn't even allow Tampa to so much as lay a hand on him until late in the first half. He credited Olsen and rookie wide receiver Kelvin Benjamin, who caught the Panthers' other touchdown pass on what Anderson termed a poor throw.
But at the end of the day, it all flowed through Anderson.
"He did a great job of leading us out there, of putting guys in the right positions," safety Roman Harper said. "He had great command of the offense."