CHARLOTTE – In many respects, the Carolina Panthers returned to the brand of football that propelled them to 12 wins and the NFC South title a year ago.
Just one problem: They didn't win.
On offense, the Panthers punted just twice, reached the red zone three times and drove into field goal range just outside the red zone against a stout Seattle Seahawks defense.
On defense, the Panthers keep running back Marshawn Lynch and quarterback Russell Wilson mostly under wraps, an effort that kept Seattle out of the end zone for the game's first 59 minutes.
But – you knew there would be a but – the offense had to settle for field goals on two of its red zone marches and didn't even come away with a field goal on the third one. And the defense did finally yield a touchdown, a 23-yard pass with 47 seconds left that gave the Seahawks their lone lead in a 13-9 victory.
"Yes, there were some good things we can take away from this game, but there's a lot of bad stuff to take away from this game," guard Fernando Velasco said. "You love a short week after a bitter loss like this. It leaves such a bitter taste in your mouth, but you don't have to wait until next Sunday to do something about it."
No one associated with the Panthers was really in the mood for a pep talk in the moments after such a difficult defeat, but you can bet they'll have some pep in their step when the New Orleans Saints visit Bank of America Stadium for Thursday Night Football.
Regardless of the Saints' outcome Sunday night against the Green Bay Packers – and despite the fact that the Panthers are 1-4-1 since a 2-0 start – the Thursday night game is for first place in the NFC South.
And despite Sunday's result, the Panthers looked like a first-place team on defense for sure against the Seahawks.
"We played a hell of a game today," said rookie defensive end Kony Ealy, who recorded his first career sack. "We need to bring that all the time. Now that we've gotten back to it, I expect nothing less. We've set the bar."
Head coach Ron Rivera hinted in the days leading up to the Seahawks game that the coaches felt like they had figured out a flaw on defense that had prevented Carolina from looking like the unit that ranked second to Seattle last season.
Sunday, Rivera saw what he had hoped to see. In the simplest of terms, the Panthers got back to playing as a team on defense, got back to a swarming mentality that proved powerful enough to overcome most any shortcoming last season.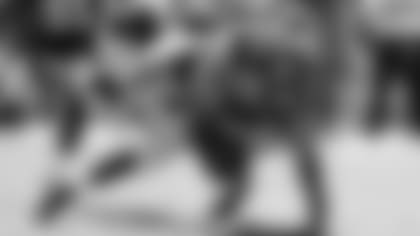 "Some of the things we did this week in terms of practice and preparation really paid off – things we have to carry forward as we keep going," Rivera said. "Going back and looking at last year's Seattle opener and the Tampa game and Detroit game this year, there were some things we got away from. Those are things we returned to, and we've got to continue that."
"Effort, effort, effort," defensive end Mario Addison said. "We ran to the ball. Everybody ran to the ball like they were going to make the tackle."
On offense, the solutions might not be as simple, but recall that the Panthers ranked 26th in total offense last year. When the defense plays to its capabilities, the offense only needs to take care of business when opportunity knocks and take care of the football.
The offense put itself in position against a Seahawks defense that doesn't easily allow scoring opportunities let alone scores, but Carolina couldn't close the deal.
"Our defense played exceptional. I've got to do better," quarterback Cam Newton said. "I know I didn't play well, didn't play my best football today, but the next opportunity awaits on Thursday. I'm anticipating that to be a great game for me."
NFL coaches typically aren't fond of Thursday games in the midst of a long season that takes a physical toll in even the most ideal circumstances. Rivera said in this case, the challenge of bouncing back mentally could be an even bigger obstacle, but he and his team will be ready to climb that hurdle.
"The sooner we get going, the better," Rivera said.
His players feel the same way, especially with the Saints up next.
"The ball is still in our court," safety Thomas DeCoud said. "We still have every opportunity to get to the postseason, and that's where we are going to end up."