SEATTLE – Against all odds, the Carolina Panthers earned the right to play for a spot in the NFC Championship game with dominant, opportunistic defense and efficient offense.
Saturday night, the Panthers' worthy opponent earned a spot in the NFC Championship – again – with the same formula.
"They did the things that we try to do to win games," safety Roman Harper said after the Panthers' 31-17 loss to the reigning Super Bowl champion Seattle Seahawks. "And they were the better team today."
The Panthers used the formula last season to finish 12-4 and earn a playoff bye, but their lack of playoff experience showed in a loss to a battle-tested San Francisco 49ers team that advanced to its third consecutive NFC title game.
This year's Panthers couldn't initially recapture that form as offseason changes, injuries and inconsistency nearly took them out of the running with a six-game losing skid that dropped them to 3-8-1. But they found the formula again just in time, reeling off four consecutive victories to become the first team to ever win the NFC South in back-to-back seasons. They then looked like a team with playoff experience last week in the Wild Card round, handling Arizona to advance.
The magical run, however, ended Saturday in Seattle, the site of many disappointments for visiting teams in recent years. In a game that was even in many ways – the Panthers edged Seattle in yards and first down - the Seahawks held a huge advantage in the areas that mattered the most. They forced three turnovers while not turning it over themselves, and quarterback Russell Wilson turned third-and-longs into touchdown strikes three times.
"You've got to give them credit and give their quarterback credit," head coach Ron Rivera said. "He's a special football player and made some plays especially when it counted, in third-down situations. He's a smart football player, a sharp football player, and he got some protection sometimes and was able to hold the ball until somebody came open. He also caught us in blitzes a couple of times.
"We needed to get them to make some mistakes, but they didn't. We made some mistakes and missed some opportunities. They did the things that lead to winning championships."
The Panthers never led, but they were never out of the game – or rather, almost never. They remained within one score if not closer until, with just over 10 minutes left – Wilson hit tight end Luke Willson for a 25-yard touchdown on third-and-10 to extend the lead to 24-10. It was the unheralded Willson who caught the game-winning touchdown pass – Seattle's only touchdown of the day – in the final minute of a 13-9 victory in Charlotte in Week 8.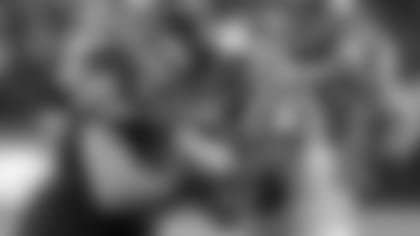 The Panthers, however, pretty much like they had all game following a slow start, didn't look like they'd stay down two scores for long. Needing a touchdown to keep hope afloat, they marched to the Seattle 13, but that's when Seattle sealed it with a 90-yard interception return for a touchdown with 5:55 to play.
"It's hard to win when you don't win the turnover battle," center Ryan Kalil said. "I thought we had a good game plan and played them tough. They have a really good, physical defense, but we had a lot of answers for them.
"I just think we couldn't get out of our own way."
That's how things felt for most of the first 12 games of the season, before the Panthers rediscovered their winning ways. When they lost 31-13 on a 7-degree day in Minnesota, almost everyone wrote them off.
But buoyed by unwavering belief combined with some long-overdue stability along the offensive line and a well-timed injection of talented youth in the secondary and at wide receiver, the Panthers began to dig out of it a week later at New Orleans.
One win led another, and confidence built quickly. By the time the Panthers landed in the Pacific Northwest, they qualified – amazingly – as a legitimate threat to the reigning kings of the NFL.
"They deserve to be here. I know a lot of people don't agree with me, and that's too bad. That's just the way it is," Rivera said. "They fought. They didn't quit. They showed up every day and worked very hard.
"They gave themselves an opportunity to get in the playoffs, won one in the playoffs and then lost to the defending champs. I'm pretty proud of who they are."