CINCINNATI – Even for Thursday night and Monday night games, Panthers players always arrive at the stadium in their Sunday best.
After games, whether they've sweated between the white lines or chilled on the sideline for three-plus hours, they exit the stadium in the same stylish fashion.
The Panthers know all about wearing ties. They're not nearly as clear on how to neatly hang a tie in the win column (or is that the loss column?)
"Of course you want to win," said kicker Graham Gano, not yet wearing his tie in the locker room after the game. "But I guess tying is the next best thing."
Moments earlier, Gano watched along with his teammates as Cincinnati kicker Mike Nugent's 36-yard field goal on the final play of overtime sailed wide right to send both teams to their respective locker rooms all tied at 37. The Panthers were the last team to celebrate anything, relieved that Nugent missed the mark to at least salvage the tie.
"The grace of God, and I prayed to him heavily," left tackle Byron Bell said. "He's an on-time God at that – he came along right on time."
After the initial sighs that they had something to show for their exhaustive efforts, the Panthers were left unsure what to think. It was uncharted territory for most. Afterwards, wide receiver Jason Avant was the only player talking about a past experience.
"It's the second tie of my life – both in Cincinnati," said Avant, pausing for a moment to ask if a media member nearby would mind straightening his tie.
"You don't play football to tie," Avant continued. "It's not as bad as a loss, but it's pretty close. We came to Cincinnati to win. When you think about playing, you never think about tying."
Avant did point out that his previous tie, by a 13-13 count as a member of the Philadelphia Eagles in 2008, ended up helping the Eagles, who slid into the playoffs at 9-6-1 (they would have missed out at 9-7) and won two postseason games to reach the NFC Championship.
Head coach Ron Rivera, who has been associated with the NFL as a coach, broadcaster and player for 30 years, had never been involved in a tie before Sunday.
"Odd. I really don't know what to tell you," said Rivera, who didn't have time to change into a jacket and tie before his press conference. "I had to think about what I was going to say to the players.
"We're in first place by a half-a-game still, so that's a plus."
The Panthers (3-2-1) actually found themselves one game ahead of New Orleans (2-3) atop the NFC South standings at day's end, as ties count as half a win and half a loss when it comes to winning percentage. Since every NFL team plays 16 games, the only way the Panthers will finish tied with an NFC South team at the end of the season is if that team ties a game.
That's pretty unlikely, given that since that Eagles-Bengals tie in 2006, there had only been two ties before Sunday.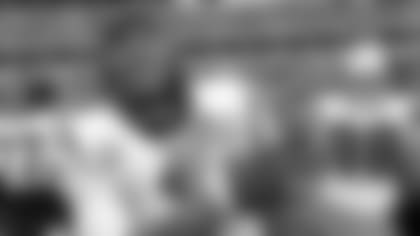 "I don't know how to act right now," said quarterback Cam Newton, one of the few in the Panthers traveling party sporting a bowtie. "I am proud of a lot of guys who played through a lot of adversity as a team. We didn't come away with the win, but it was still a good effort."
On the team plane after the game, some players loosened their ties after a hard day's work. Linebacker Luke Kuechly actually took his tie off, then accidentally left it behind and had to double back after deplaning to retrieve it.
"I don't know. After the game, you look around, and nobody really knows what to think. It's kind of strange," Kuechly said. "You didn't win. You didn't lose. You work so hard throughout the week, and you don't really get an outcome."