On why his relationship with Panthers Head Coach Ron Rivera has been successful: "I think it's because of Coach Rivera, he's been so transparent for us as players. A lot of coaches says, the cliché analogy, I have the open-door policy and do this this, that and the third, but for Coach Rivera, it's kind of been true, true to life. He's always made himself available not only for the coaches and players, but for anyone family-oriented in the organization. As well as it helps that he's played in the league and knows kind of the strongholds that we go through from being sore after games, mentally needing time off or just having a whole understanding of things that he has been through, as well as we're going through as well."
On the Panthers' wide receiving corps: "Those guys have been playing lights out since day one, to say the least, from Ted Ginn (Jr.), who was a bust for so many people. I heard Jerricho Cotchery was washed up 10 years ago, Philly Brown had no hands, Devin Funchess was too high of a pick for the Carolina Panthers, Brenton Bersin, who knows who he is, and just things of that sort. But for us, we didn't let anyone else dictate to us that we knew what we were capable of. It's a very close-knit group and guys selling out for each other."
On the team's chemistry and how it began building in the offseason: "We were lot of guys that loved to compete from OTAs to training camp. When you've got a lot of guys that love competition, it's going to bring out the best in everybody. You're going to really see the true size of guys. From defensively, offensively, we don't really necessarily go live in special teams, but for offensively and defensively, we had guys that were battling each and every day and that's what you want to see. We may practice game-like, that's what coach stresses and harps on each and every day. For us to go through what we've been through, there were some tempers that flared, people had their opinions about that, but I don't know a team that's great that doesn't take each and every opportunity that they get to try to get better, and that's what we did."
On why this year in Carolina has been more enjoyable than other years: "It's just a bunch of great guys; a bunch of solid guys, humble guys, guys that love football and love being around one another. We just go out and have fun. We don't want to let the next person down. It's been a great year."
On the team chemistry: "Yeah, like I said, we just love being around one another. (We are) hardworking and humble. There is a bunch of talented guys in there with great personalities and it's translated onto the field."
On his work ethic: "Hard work. Hard work is going to get anything done. Just being a part of this group and the kind of guy I am, the kind of guys these (Panthers) are, I don't want to let them down. I've always been a hard worker but I think that having surgery and being released I learned a little bit more about myself and about football and stuff like that. I studied a lot of things; nutrition, exercise, stuff like that while I was down. So I've just been working at that stuff. Football has always been important to me."
On if he appreciates this Super Bowl more than the first one because of his journey in between: "Probably a little bit. You come from one of the worst teams to one of the best teams. You get people telling you that you're not good enough to be around anymore and now you're here in the Super Bowl. It just shows that you can do anything you want to and that you put your mind to. Just don't listen to people or what people say. You've got to look yourself in the mirror. You can't put your dreams and the things that you want to accomplish in other people's hands. I've always trusted the NFL, and I've always believed that these guys have all the answers. So this offseason I said, 'you've got to look yourself in the mirror. You've got to know what to do. You've got to just get it done yourself.'"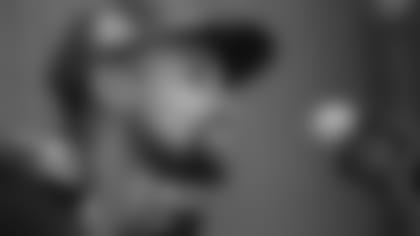 On if QB Cam Newton is different behind closed doors: "No, he's the same 24/7. He's a guy that likes to have fun, but he can also flip the switch and get serious. He's a great leader. The funny thing is, I just got done playing as him in a video game and he's still doing his screaming, his smiling and everything. He's just a competitive guy all around."
On Denver CBs Aqib Talib and Chris Harris Jr. and the secondary: "They're a well-coached group. It just isn't those two. They have good safeties. They have a good nickel, and they have a good dime. You can just tell they are a well-coached defense, not just those two guys up there."On if he has ever had this much fun in a season: "No, no we're having a blast as you guys can tell. The best part is winning, but I feel like a better feeling is proving a lot of people wrong who didn't' think we would have half the wins we have now. I feel like that's the part that warms my heart at the end."
On the team's personality is like a brotherhood: "It is. It's like a college environment here where everybody is just one big family. Nobody cares who gets the success at the end of the day. Everybody just wants to win. It's not about stats for anybody. There isn't one person who comes in our locker room after the game and goes, 'Man, I wish he would have gave me the ball more, or I wish I would have had more.' As long as we get the 'W' at the end of the day, everybody is happy."
On what the week has been like so far) "It's been long. It's a long two weeks. I would have preferred to play this past week. Obviously being 24-years-old, a bunch of the older guys enjoy this break to get their bodies back and stuff like that, but it's a long week. Looking from the outside in, you never realize how much goes into playing in a Super Bowl. You don't see all the media stuff that the players have to do, you just see the game."
On what the team motto "Keep Pounding" means: "It just means keep grinding. Stay the course. Don't let anything derail you from the journey of where you want to get to. When things are going bad, stay positive. Keep working, just never quit."
On how much fun the team is having: "It feels like college. I've said it over and over that this is a brotherhood. This is truly a brotherhood. It's a bunch of people around you that care about you, care about your everyday problems and when you're this close with people, it's easy to have fun. The wide outs have fun with the linebackers and the D-line, there's not a person on this team that I couldn't hang out with outside of football."
On the coaching staff encouraging players to be who they are: "We're all about doing your job, doing our jobs. Don't try to do somebody else's job. There are 10 other guys out there with you that are professionals too. They get paid to do a job and if all 11 do their job on the same play, we should be successful, and for the most part, we've had that this year."
On how much pride he takes that people were questioning the receiving corps at the beginning of the season: "We knew what was going to happen. We don't care what people have to say about us and we don't listen to any of that. We know that at the end of the day, we have a job to do. If we were sitting here worrying about what people were saying about us, we wouldn't be able to do our job at the level we have been doing it at."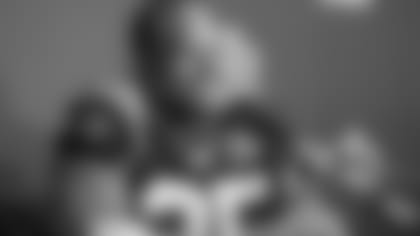 On if he's seen Newton run over linebackers: "Absolutely, I've seen it all. He's an ultimate competitor, as evident in the fight with Josh Norman in the beginning of the season in training camp, or in the Conference Championship game where he's running the ball for third-and-nine and he runs over a DB (defensive back) and mushes him to the ground for a first down. He's trying to win in every aspect of the game."
On if there is a conscious effort for their offense to play so physically: "I think it's just who we are. You look at the way our offense is, we're built around a freak of an athlete in Cam Newton. He can run the ball, he can throw the ball, he can do it all. Then our backs are heavy backs, when you look at myself and Jonathan Stewart we're both 240 plus. We run downhill. Our offensive line is built around monsters, guys who like to play dirty. You look at a guy like Andrew Norwell who is undrafted out of Ohio State and he is a beast and that's all he does is wants to maul people and I love it. That's just the way we play football and it just so happens that our coaches have the same mentalities as the type of players that he has."
On how they build team chemistry: "As far as team chemistry, we're always together whether it be going to dinner or just being together, going to the mall. We're always together, we go to Cam's and hang out all the time. The running backs are always hanging together. I'm always with the linebackers, with Thomas Davis and guys like that. So, we're more than just a football team, we're an actual family. We care about each other. Things happen in life, but at the same time we know that it's more than just football with us. We actually care about each other off the field."
On Luke Kuechly and being correct in everything he does: "Yeah that's just Luke. I mean that's his personality. Like I said he's a great guy. Luke is, I mean that's why he's a captain. You know he's a good guy, we all appreciate him and we all love the guy."
On the importance of Thomas Davis playing: "Thomas is gonna do anything he can to get out on the field. This game, he's not gonna miss. But I can't speak on him. But as a team we're all gonna be ready and we're all gonna prepare."
On defensive leadership and who gets the defense fired up:"It's everybody. The whole defense. We bring all the energy and it's not just one guy. This defensive is a team thing and we all bring the juice."
On learning from Sean McDermott: "Sean McDermott, he taught me a lot. He can tell you, I've grown since I first got here. I really didn't know a lot. But he still teaches me now. Just like the little things about technique and what I have to do and stuff like that. So he's been great."
On the fun this group has and if that surprised him coming into the NFL: "At the end of the day it's football. You're supposed to have fun. I mean it's still a serious game but you gotta have fun. That's what I was taught when I was younger, to have fun. It's a great game, I love the game and all that."
On this linebacker core and what they've done for him and this team in general: "Well since it's my rookie year, I mean those guys helped me out tremendously. Just getting into the playbook when I first got there from school and just learning what offenses like to do, what type of players they are, how you could read your keys and stuff like that."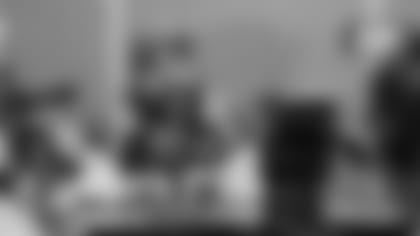 On if Head Coach Ron Rivera has given any parallels between his 15-0 Chicago Bears team and the current team: "Here and there. It's a great opportunity for him because he won it as a player and now he has the opportunity to win it as a coach. He's faced (Broncos QB) Peyton Manning before, but I think we have a different team this time. So here and there he'll talk to us about it, bus as far as this team (goes), he wants us to keep our personality and he always tells us that there is no one else like us. We're going to attack this game just like we have all season."
On if Rivera appreciates the way the defense plays being a defensive minded head coach: "He's usually harder on us because he was a defensive guy, so he's usually harder on the defense starting from (training) camp, all the way to this game coming up. It's been good for our defense and it makes us stronger."
On Defensive Coordinator Sean McDermott: "I've played for coach McDermott for the last three years. He's a great coach. He takes the strengths of each individual player and every week he works the game plan to kind of let everybody's strength shine. He's done a great job for our defensive line and he cares about the players on his defense on the field and off the field. He's a great coach to play for."
On what McDermott told the defense to watch for from the Denver offense: "They're a really balanced team. They have a strong running game. They have two running backs that really complement each other and, of course, Peyton Manning. They have some great receivers as well, but Peyton Manning is kind of the guy we have to attack. I don't think that's a secret to anybody."
On how good the Panthers defense is in relation to the Denver defense: "At the end of the day, it's not our defense versus their defense, it's not our offense versus their offense, it's not one player versus another player, it's the Panthers versus the Broncos. They have a great defense. We know that. They have great players on both sides of the ball. We're coming into this and we're getting ready to play their offense and we're preparing for the Broncos."
On what makes the Carolina defense so good: "Just everybody is unselfish. We have guys out there where nobody really cares who gets the credit. We have guys in all positions making plays. Everybody plays unselfish defense, everybody plays unselfish football, so I think that's a special thing."
On how aware he and other players are Rivera has been on this stage as a player: "It's great to have that kind of experience, especially for a guy who's the leader of our team and our head coach. It's really invaluable to have that kind of experience. He doesn't really talk about it a whole lot. He's a humble coach, but he expects us to go out there and play like we've played all season. He doesn't really compare us to anybody. He tells us to keep our personality and that's what we are doing."
On what Rivera has done to keep a sense of normality in terms of preparation: "We had our first practice here in California yesterday. I think it feels the most normal when we're out there practicing. Coming back to a hotel, it can be a little different, I mean it's just all about your mentality. We've been preparing for this game all season, so we're going to be ready."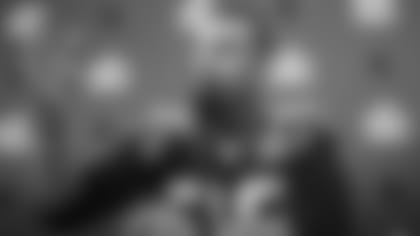 On what makes Broncos QB Peyton Manning successful: "I think it starts upfront. He (Peyton Manning) has got a good offensive line. The run game that he has with two different backs, with C.J. Anderson and (Ronnie) Hillman, they have different kinds of flavors. Hillman, I think, is more of a speed (back), and C.J. Anderson brings a lot of power. Both backs vary. The yardage that they have gained this season is almost equal, but what they do is different – very versatile. Obviously, he has his weapons on the outside, and I think he uses his tight ends very well. Sometimes tight ends go unnoticed in the (grand) scheme of things, and Peyton finds a way to find his tight ends. And obviously, coming here, I think everyone knows how smart Peyton is. Peyton knows how to put his players in the right position and effectively use the calls, the audibles, to draw guys offside, to put them (in the right position). Whether it be (moving) the run from one side to the other, he just does a great job of managing the game."
On if the team has remained loose leading up to the Super Bowl: "I would say so. I think we've (done) a great job of just being able to enjoy the moment. I don't think we're putting much pressure on ourselves. This is a football game. Obviously, the lights and the glamour get bigger, but to us, it's about executing the Xs and Os, really just playing fundamental football and having fun while we're doing it. That has been our pedigree all season, and the one (time) that I didn't feel like we were ourselves, per se, was the one game that we lost. So, I think all we have to do is be ourselves throughout this whole process and enjoy this game."
On the origin of 'Thieves Avenue' and the mindset it creates: "'Thieves Avenue' is just where the thieves live. That's where we reside. Such as, this is Market Street out here. This is where the Hilton and the Marriott meet. It's just where we live. The thieves are the people amongst ourselves in the DB (defensive backs) unit, and it all started at the beginning of the year, when we said we wanted to lead the league in takeaways. That has kind of been our thing. Every game, we've figured out ways to, 'how do we get more picks? How do we get more forced fumbles? How do we just create more opportunities for our offense to have the football?' And then one week, (Panthers defensive line coach) Eric Washington kind of called us thieves, and it stuck. We wanted to embrace that. So, for the first few weeks, it was almost just talk. We want to be thieves, but now it's what we believe. It's who we are as a group, as a collective unit, but it doesn't just start in the back end. It's because of our front seven that have been getting tremendous pressure all year."
On if he thought the Panthers' defensive system was a good fit for his skillset when he joined the team: "Yes. When I was looking at things, I felt like I was familiar with what (Panthers Defensive Coordinator) Sean (McDermott) wanted to do before I came here, obviously, and that gave me the familiarity to know what he could trust me in his system. But also, I felt like the guys that I would be playing with – with Luke (Kuechly), 'TD' (Thomas Davis), the guys on the front four, obviously, with Roman Harper – I had a lot of trust in their leadership, that I could come into (the team) and feel very comfortable really just being myself. And I really felt like the transition was very smooth when I first got here."
On losing his starting job in Philadelphia, where he drew confidence and now being in the Super Bowl: "I think my faith in myself, faith in my God that I have, but, also, what I've been able to do. I think in college I was a playmaker. I made a lot of plays. My years that, I actually felt like, in Philly were actually productive for me, even though they may have not been as consistent as I want, but that isn't just about (me). It's a bigger picture. So, even though I wasn't having the success that I wanted, I knew I was moving in the right direction. And I think this league is all about the right opportunity. You get in the right system, you get around the right players – guys that want to just do their job, not try to do too much or go outside the scheme of what the defense is. And it allows you just to play. I don't want to do anything other than what I'm asked to do in the system, and it's great, because I'm playing with some great guys that I can trust out on the field. And that's why I have to say I've been successful."
On why younger, overlooked players and second-chance veterans thrive in Carolina's defensive system: "This defense is very technically and fundamentally sound. There's no grey area, and when there is amongst things, we get it worked out, because I think that's the mark of a true defense. We're not asked – like I was saying before – we're not asked to do anything other than what our job states. If I'm in the deep post, I'm not going to go and try and snag something across the middle. I'm going to stay in the deep post, because I know my corners are trusting me, that I'm going to be in the deep post. So, if anything comes across deep, I'm going to be there to help make a play for the ball. Vice versa on the front four: If Jared Allen is in a five technique, a six technique, if he has a gap that he has to control, he's going to control that gap, because he knows that I'm – or the linebacker is – going to be filling the other gaps. So, if he tries to get out of his gap, that puts us at a liability. So, I think it's just a trust that we have amongst each other, with the coaches and the players all alike, that we're going to do our job and nothing more than that."
---
View photos of the Panthers during their media session at the San Jose Convention Center.